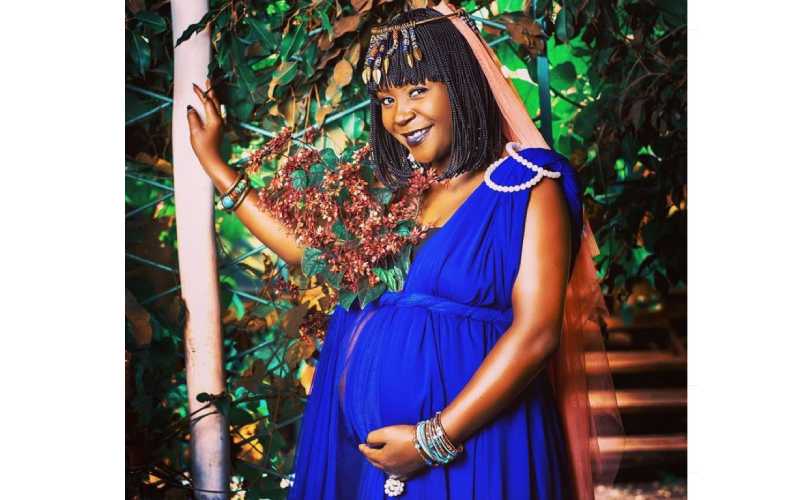 Ugandan comedian Anne Kansiime and her musician boyfriend Abraham Tukahiirwa alias Skylanta have announced that they will soon be parents to a bouncing baby boy.
Taking to social media to share the news, Kansiime revealed that the little ninja is almost due. She expressed her gratitude and disclosed that she couldn't wait to meet her baby.
"And there's no time to spare as we make way, make way for the little ninja to arrive," she captioned photos from her blue-themed baby shower.
A week ago, the 34-year-old comedian admitted that she no longer feels distressed or anxious now that she expects her first child. Through a post on social media, Kansiime said that her critics accused her of selling her uterus for fame a while back.
"Some people were trying to figure out why I did not have kids with my ex-husband Gerald Ojok. So, they said that I had sold my uterus for fame. The sad thing is, even if it's not true, there is no way you can be able to show people that your uterus is still intact," she explained.
Kansiime narrated that she had for a long time now wished to conceive, and now that she has, she can't wait to start a family with her boyfriend barely two years after they became an item.
"My head spins from not knowing where to start. I have been looking for the perfect way to break it, but soon Skylanta and I shall have a little ninja added to our family," she revealed.
"I have been looking for the perfect way to break it to you, my dearest Ninjas that soon my Kantu Skylanta and I shall have a little Ninja added on to our family and I thought and thought, what better way!!?" she further said.
Speaking of her failed marriage with Gerald Ojok, Kansiime explained that she held back the breakup for a while before breaking the news to her fans.
"Actually, my relationship ended like six months before the whole world knew about it, but the pressure kept it going for a while. If you are there and not happy and think you are doing for someone else, come here and I'll congratulate you cause you are wasting your own time," She said.
She added that it was her ex-husband who left their marriage. Confirming rumours that she earned more than Gerald, Kansiime insinuated that her ex-husband left her due to reasons that she could not disclose.
"That's a fact I earn much than him, but I don't know if that is the reason he left. There could be other reasons that I will not get into," she said.