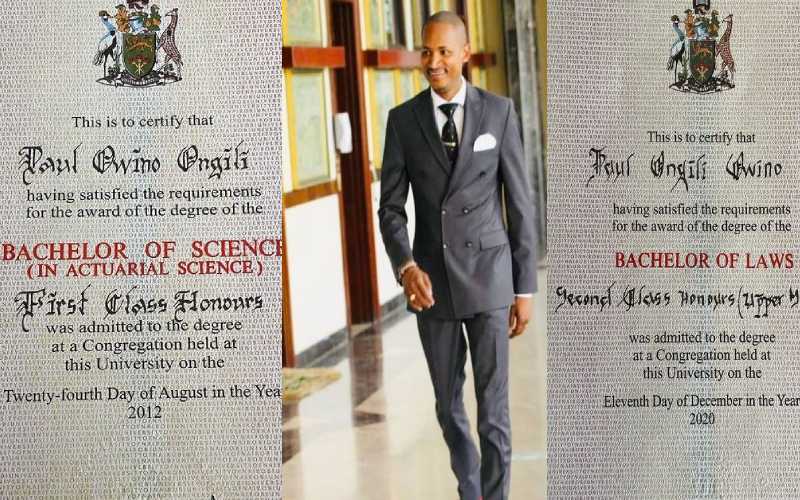 Member of Parliament for Embakasi East Constituency, Hon. Babu Owino has taken to social media to flaunt his remarkable degree certificates in an attempt to explain why he spent so many years in school.
The certificates posted on the former chairperson of the Students Organization of Nairobi University's Instagram page show he attained his Bachelors of Science degree in Actuarial Science at the University of Nairobi back in 2012 and scored impressive first-class honours.
He later enrolled in the same vicinity for a Law degree and graduated with second class honours, upper-division in 2020.
"Reasons why I overstayed at the mighty University of Nairobi. This is the Kind of leader the People of Embakasi East elected. Intellectual capacity is at optimum. Know your leader. Your favorite son Comrade Babu Owino Paul Ongili Half man half amazing and the value on the added tax. After you Na you, Na you na you…" he wrote.
Several awe-struck netizens and celebrities camped on the politician's comments section hailing him for the job well done, with most acknowledging how hard his degree options were. Yet, he managed to rise above every challenge presented to him and being among the highest achievers.  
Here are some of the comments from his post; 
Mcatricky Hapo sawa bro
Keith_wangwejr Yeah, we were in the same class I remember you fought for me when the lecturer did not enter my cat marks and wanted to force me to redo the cat a day before graduation we matched with you to the office and just like that my marks were found and you are a true leader.
Katrinamonroe_ Congrats it's not easy Tibim!
Franklinetarus A man who wants to lead the orchestra must turn his back on the crowd. You manage things; you lead people. Congratulations,
Akinyimunene In a class of your own Babu
Ahmed11farida Sharp as a tack!!!! Congratulations and keep shinning
Oratamia Congratulations, getting such grade in such a course not easy
Thebeloveddrzeph Congratulations. Keep striving for excellence. Let God guide your ways and use your gift to serve uplift and serve humanity.
Stingohim Amazing leadership qualities
Student leadership
Babu, undisputedly quick-witted, started attracting showbiz journalists due to his flashy lifestyle, throwaway phrases, and carefree attitude that saw him through school as a student leader.
Often referred to by comrades as the savior of students, Babu Owino did his best to ensure the majority of the students' needs were met by the institution.
"Babu Owino is Idi Amin reborn. He is barely intelligent. He can hardly make a sound statement - most of his statements do not make sense. Every statement he makes is a lie," Amos Qeeto wrote on a Youtube clip at the height of one of the campaigns.
"He's brilliant in his own way. To have your slogans adopted in national politics requires a special kind of brilliance that is only peculiar to him and few others," Osiany said of his successor in SONU leadership.