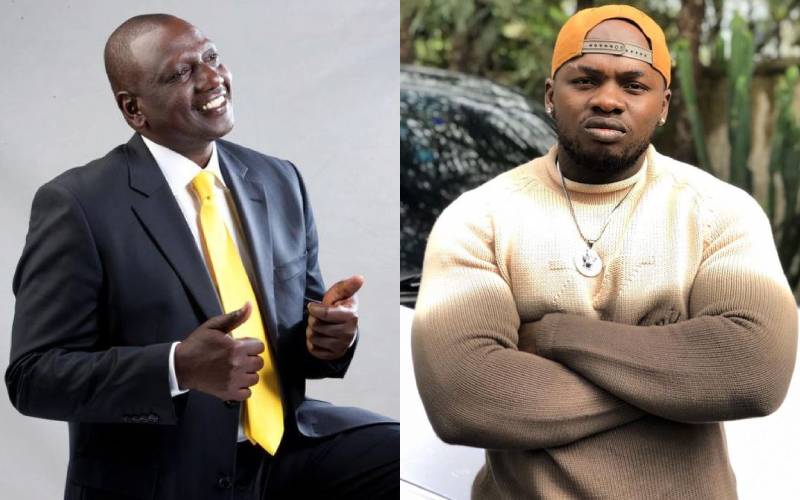 Social media posts in which rapper khaligraph Jones addressed Vice President William Ruto and ODM leader Raila Odinga over the suffering that creatives and entertainers go through due to the imposed lockdown seem to have bore fruits.
This is after the Deputy President, in a statement shared on his platform, responded. Khali had pleaded with the top politicians to intervene and have the President open up the entertainment sector.
"Fanya ile kitu uone vile utaingia statehouse haraka" [implement it and you will be elected President] he posted.
He further wrote to Dr. Ruto promising to campaign for him for free in the coming elections. "Ma hustler wanaumia kwa ground." [hustlers are hurting].
It did not take long before the vice president responded with a post in sheng lingo.
"Bazuu Khaligraph, mimi najua the pain of sleeping hungry. Niko ready kusaidia. I will also mobilize my friends to get more tusaidie," he wrote in response.
He then tasked the rapper to talk to other artists and plan on food distribution, after which he hinted to have a meeting to create the know-how in helping the creative industry.
'Najua huko kuna talent mingi tu sana." 'I know there's enormous talent out there', he wrote tagging Khali on the post.
The O G has since responded asking for the VP to help have the country unlocked. 'help us talk to His Excellency. We have been affected by the current situation and it's becoming unbearable,' he pleaded. "We need to protect our livelihoods."
Earlier on, Khaligraph had bashed naysayers who had likened his posts as a means of endorsing the political leaders.
"Mshaanza' propaganda ati Omollo has endorsed a candidate. Watu wengine wanapenda kasheshe na akili ni kama kifego ya maembe [Some people have started propaganda that I have endorsed a candidate. They spread rumours with brains the size of a mango seed]," he said.