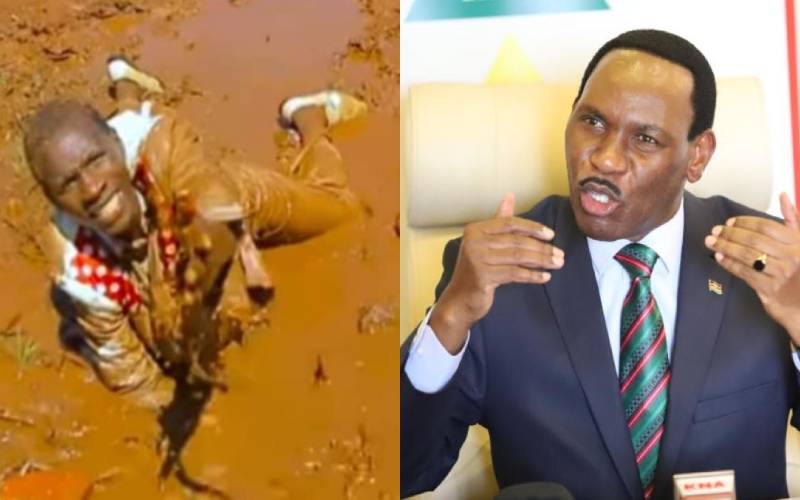 The Kenya Film Classification Board boss, Dr. Ezekiel Mutua, has raised concerns over Kisii gospel artiste Embarambamba's safety following his blood-curdling stunts often witnessed in his music videos.
According to Dr. Mutua, Embarambamba should keenly consider changing his performance tactics as he is a danger to himself and his fans who might try to copy him.
Airing his concerns via Twitter, Dr. Mutua questioned whether the fast-rising vernacular singer was in his right mind. He stated that it was humanly impossible for an individual to perform such spine-chilling acts for long as it might end up in tragedy.
"Why do I feel like Embarambamba is a danger to himself and that his fans could be cheering him to self-destruction? Is this style sustainable? Is it even sane? Unless he's superhuman, this guy will hurt himself. Someone, please stop him!" he wrote.
It is the Holy Spirit
According to the Mungu Ameniwezesha singer, his hyper-performance tactics came to life when he met the late President, Daniel Arap Moi, while traveling to his hometown a few years ago.
Narrating the turn of events in a previous interview on TV47, Embarambamba admitted that because of his excitement to see the former President, he found himself dancing vigorously with his legs in a zigzag motion that prompted the former President to shake his hand.
At this moment, the comedian turned singer realized he could get anywhere he wanted to by being unique.
"We were asked to stand by roadside and greet him. As he passed by, I was dancing and lifting my leg in a zigzag motion. Moi called me and shook my hand. I was the first pupil in Nyanza province (as it was then), to greet Moi," he said.
Defending his unruly performance styles, the famous Kisii singer revealed that he gets his guidance from the Holy Spirit, who sometimes tells him to tear his new suit and roll in the mud.
Speaking in a separate interview on Jalas TV, Embarambamba assured his safety to fans, adding that God was looking after him as he fulfilled his assignment.
"I do it because of the power of the Holy Spirit. I know people think it's madness or bhang because they are not aware this is talent. When you see that know it is God sending His angels to get hold of me. The Holy Spirit directs me to tear my suits, even if I go naked God will still accept me.
"It is not madness, it is the Holy Spirit. I don't plan to do it. When I roll in the mud it is not that I had planned it. When I'm invited to functions and events, the spirit to entertain overwhelms me," he said.
Dr. Mutua is, however, not the only individual that has raised concerns about Embarambamba safety. A section of netizens has discouraged his wild performance, but the singer has yet to heed their advice.