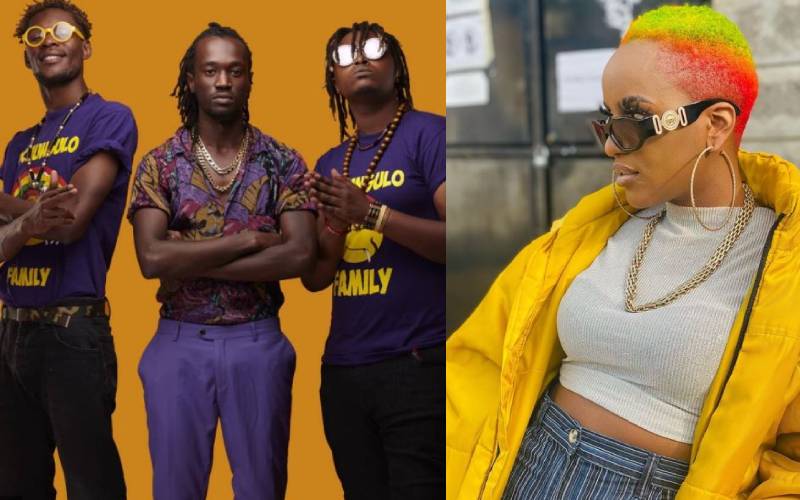 At the height of their infant career, gengetone's rap trio Ochungulo family reportedly mocked female rapper Femi One saying she was not worthy of being one of the finest female rappers, only for the group to disintegrate less than a year later.
In a social media post, the group comprised of rappers Nelly the Goon, Dmore, and Benzema, had picked their preference in other female rappers and openly ditched Femi One.
Two years later, the post emerged, and Femi didn't hold back her words, saying 'kimbelmbele ugali mbichi', sending her fans into a frenzy.
The Mpenzi Mtazamaji hitmakers disintegrated, leaving only a third of its members, Benzema in the limelight.
Speaking about the split, the Ochungulo family posted a statement on Instagram saying, "To all our Fans... We wanna say Thank you for the support you have given us the past for few years. You have been good to us, God has been good to us & the music has been good to us. We have reached a point we have different goals & targets. So the decision of us splitting is a mutual feeling and we saw that as the best way forward. Again, Thank you so much for the support!!! We shall meet again. God bless you all."
Despite being told that she was not one of Kenya's finest female rappers two years ago, the Utawezana hitmaker has continued to gain international success.
About a month ago, Femi One, real name, Wanjiku Kimani, was appointed as a brand ambassador for Monster Energy for East and Central Africa, making her the first African female to bag the position.
Speaking about her appointment, Femi One said, "All the time, consistency and dedication I've put into my craft is paying off and it is amazing to be recognized for my efforts. This is not only my achievement, but also a win for all African female artistes as I am the first to be appointed to such a role.
"I am also grateful to my team for believing and working with me through it all. Monster Energy Drink matches my energy, and I am excited to see what this partnership will lead to."
Femi's appointment came a few days after she released her latest single, Miziki.