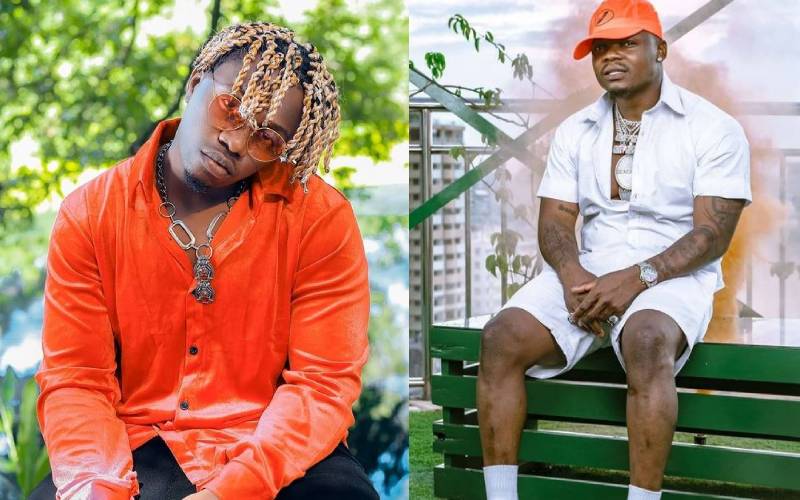 Tanzanian singer Harmonize has threatened to take legal action against Rayvanny for allegedly spreading false information against him. In a lengthy Instagram post, Harmonize has stated that everyone involved in spreading or posting the said videos and photos incriminating him will face the law.
In his response, Harmonize has also denied the allegations that he sent explicit nude photos to Paula Kajala, daughter of his ex-girlfriend Frida Kajala Masanja, to seduce her. According to him, the pictures and videos doing rounds on social media are photoshopped.
"Taarifa Kwa Umaa ...!!! Video Zilizo tengenezwa na Kusambazwa Mtandaoni Zikiwa Zinaonyesha Sura Yangu Na Kuunganishwa Na Utupu Wa Mtu Mwingine Kisha Kuunganishwa Na Sauti Yangu Kwa Lengo La Kunichafua Kunidhalilisha Na Kuharibu BRAND YANGU ambayo Nimeitengeneza Kwa Mabilioni Ya Shiringi ..!!!! Itoshe tu Kusema (1) Sio Mimi ...!! Narudia Sio Mimi na Sina Maumbile Yale. (Public Information. The videos circulating on social media showing my face are photoshopped with someone's nudity then embedded with my voice in the aim of shaming me and destroying my brand that I have build with millions of monies. I want to say that It is not me, I repeat, it is not me and my body parts don't resemble that)" wrote Harmonize in part.
Explaining further, Harmonize narrated that the sound or voice in the said videos is his but from a different setting. He mentioned that he was once in a relationship with someone else and had engaged in a similar phone conversation. 
"Hiyo Video Ninayoongea Kwa Sauti Nikiwa Bafuni Nilikuwa naongea Na Mtu Niliekuwaga Nae Katika Mahusiano Ni Kwaida Mtu Kuzungumza na Mtu wako Wakati Wowote Mahala Popote. (In that video, I was in the bathroom talking to someone who we were in a relationship with. It is normal to talk to someone who you are in a relationship with at anytime at anywhere)" he added.
In his statement to the public, Harmonize has insisted that whoever played a part in distributing the videos will soon be taken to court as he has already pressed charges against specific Instagram accounts.
This comes barely a week after Rayvanny called him out for allegedly sending nudes photos to Paula, Kajala's daughter.
In a lengthy Instagram post, Rayvanny termed Harmonize's alleged move towards Paula as an act of disrespect to himself (Harmonize) and society. He added that it's shameful for the Konde Gang President to want to sleep with both the mother (Kajala) and her daughter (Paula).
"The world has it's wonders but I have never seen a person like my brother Harmonize. What kind of a person are you to want to be with a mother and then her daughter to the extent of sharing your nude photos without being afraid of the position you hold in the society?" wrote Rayvanny in part.