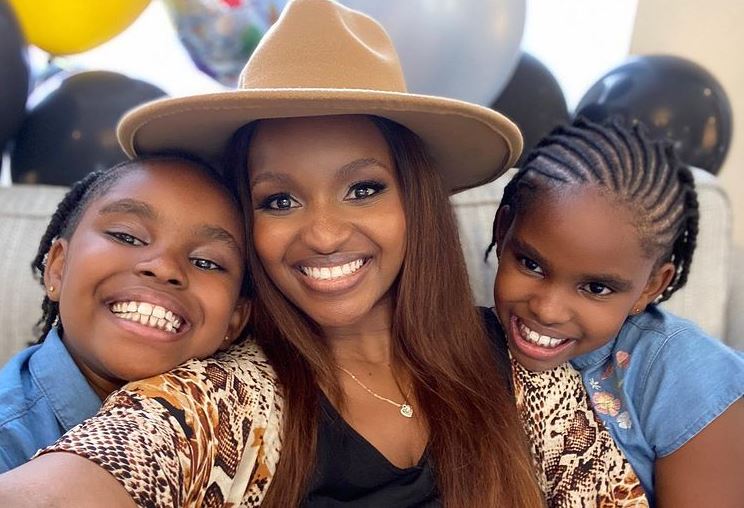 Media personality Grace Msalame is a proud mum as her daughters Zawadi and Raha turned ten today. Thanking God for enabling her children to turn to the next chapter, the mother of three referred to the celebration as a 'huge milestone.'
Taking to Instagram, Grace posted photos of her daughters, both dressed in blue dresses with a dove and floral drawings on the side, with happy birthday balloons in the background.
"My Sweet, Super Smart, Artistic, Creative little beautiful ladies you are both so deeply loved, adored & celebrated. It's been 10yrs of the best ride of my life! Honored to be your Mommy My Gifts of endless Joy... Happiest Birthday Zawadi & Raha," Grace captioned the photos.
Grace was in her mid-twenties when she had Zawadi and Raha with her baby daddy Paul Ndichu.
A few years ago, the two parted ways citing irreconcilable differences but have managed to have a cordial relationship to co-parent their twin daughters.
After the breakup, Paul Ndichu moved on and later married Evaline Momanyi, with whom they share a baby girl, Kwanza.
Contrary to popular belief, the Unscripted with Grace host said she was never married to Paul.Posting on Instagram a while back, Grace said, ''I have no idea where the story came from that I've been married before! Let's just leave the matchmaking to Jesus."
Sharing her experience after discovering she was pregnant with the twins, Grace says she was ashamed for having children out of wedlock due to how she was raised.
"I had my children out of wedlock in my mid-twenties & I was gripped with shame for years because I wasn't raised like that but I couldn't quiet the nudge to still serve Him & so I held on to Him even tighter & now 6 years later I'm glad I believed in His Unconditional Love & learned to forgive myself & know that children are a Reward from the Lord," she posted on Instagram.