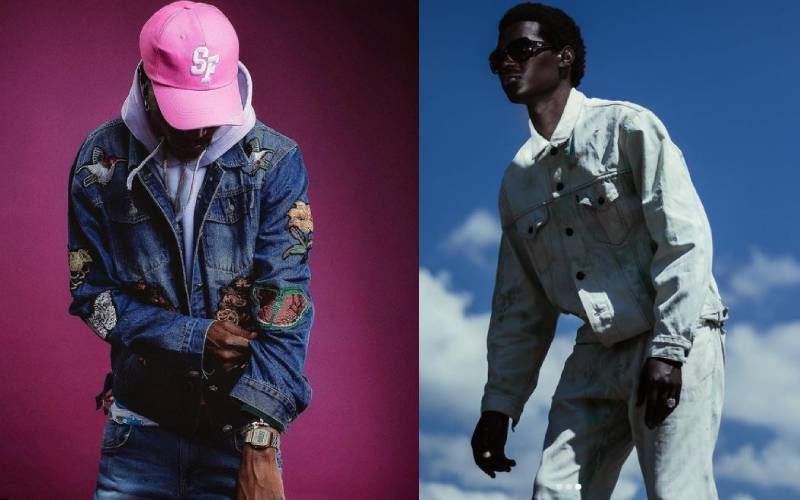 Last week, Kenyan streets were ablaze when hip hop mogul and tycoon Jay Z popped up at famed Italian diner Giorgio Baldi poised in Kenyan-owned brand Blkburd Genes tee Lamu Riyadha by designer Zeddie Lukoye. Standard now uncovers some hidden 254 fashion-forward gems worth your attention in 2021.
Crafted Nairobi
Using recycled waste materials, this is a high-end Kenyan brand that is not all clothes and glam but environmental-friendly. Designer Wana Muthama has curated unique garments that leverage cool with tops, bottoms, and accessory options from sweatshirts and sweatpants, shorts, beanies, book-bags, wallets, all in really minimalist hues. Their attention to detail is pristine. For about Sh1,000 to Sh6,000, you can be a proud supporter of Kenyan-made fits. You might catch some Kenyan celebs like Karun or Shappaman wearing their cozy upcycled outfits.
1V1 Garments
This is a grunge and punk streetwear line that has all your everyday wear in mind. Celebrity stylist Wambui Thimba is known for picking poppy fits and dressing up bigwigs like Runtown to burgeoning acts like Timmy Blanco & Jovie Jovv, all endorsing the streetwear fashion house with their custom made ensembles. Their creativity in the threads knows no bounds. However, the brand hosts pop-up shows and is famed for its series collections that occur about twice a year, at least before COVID-19.
Seasaw
If there is Black excellence, then Kenyan Excellence can be a building block branch in that bracket contributing to the conversation. With Beyoncé shouting out black-owned brands, she must have skipped one of Kenya's most refined brands – Seasaw Apparel. Co-owned by fashion-forward rapper Octopizzo and his younger brother Jimmy, the brand consists of a vast collection of items. Their raw materials are outsourced from as far as the Alps, making the avant-garde of the brand secondary to none. They made a pair of eye-wear in 2019 cut from the most refined softwood in Europe and sold it at reasonable prices in Kenya. Their pieces are street yet exude luxury. The embroidery is superior, making them a must-have for any fashion lover.
Pesos Nairobi
Relatively new, the couture clothing house is a highly conceptual and functional clothes company infused with artistic ideas. Their clothes are not your typical run-to-the-mall wear. Likewise, they aren't precisely a runway brand; they make clothes out of love and desire to create while pushing artistic boundaries. This passion for the art of clothing gives them unique statement wear to piece up when heading out to occasions and distinguishes them as a very stand-out fashion house from any other.
Metam Studios
The kings of everyday wear live here. With a vast depth of pieces from dad hats, to cargo pants, to t-shirts, bombers, this brand's consistency is unmatched. The items on their racks are gender-fluid, and this grows their appeal immensely – the fact that you can practically share clothes between both sexes is a valuable trait for them. Also, the quality and durability of their clothing for a Kenyan brand is top drawer. A Kenyan identity also emanates from the pieces with various references to Kenyan culture obvious and championed, especially in their most recent editions. Karun, Steph Kapela, Xenia Manasseh, Nviiri, and EA Wave are huge influencers behind the brand.
Bonkerz
The most relevant and culture-forward brand in Nairobi has to be the famous bear brand established in 2012. When Ke Star producer Vigro Deep was spotted in their 'Just Smile' atelier, it was clear the brand had already cemented its spot as an African giant. While it started as a jewelry brand, Bonkerz's growth creatively has not gone unnoticed. They are always in tune with the culture and current events and have a commendable turn-over rate to embody society's happenings in their clothes. Last year when 'Kanairo' took off, Bonkerz created fashion to immortalize that moment in culture. Their ideas are fresh, and clothes fresher. Designer Mvoo has honed making clothes skills that blur the line between casual, classy, street, and high-end. You can chill at home and go to work in the same hoodie or sweatshirt. From Wizkid collaborator Juls to Kenya's Blinky Bill, Bonkerz is an essential in the wardrobe.