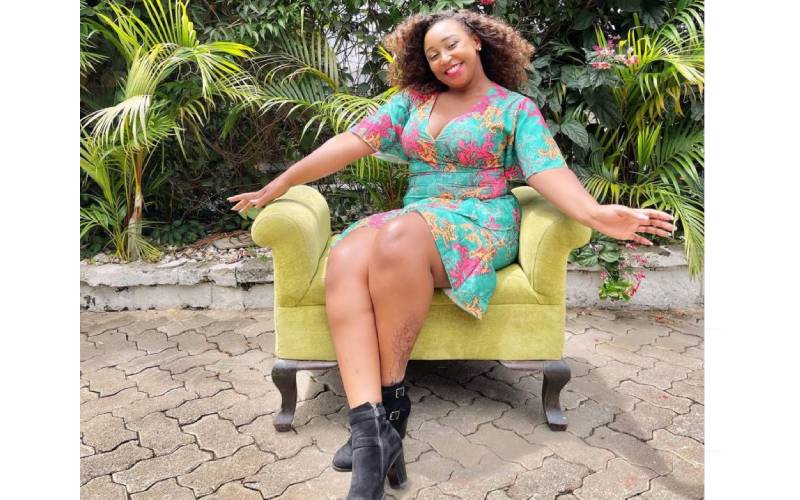 Media personality Betty Kyallo has opened up on her desire to have her own TV show similar to that of American talk show host Oprah Winfrey.
Speaking during an exclusive interview with The Standard Entertainment and Lifestyle, Betty revealed her perpetual admiration for talk shows, including the 'Who's smarter now' show that aired back in the day. She says the show prompted her to venture into journalism that ultimately acted as a stepping stone for her impending dream.  
"I've always wanted to have my own talk show like Oprah and I think I've talked about this so many times and I've also wanted to do a game show. I remember 'Who's smarter now' that used to be on KTN, and I remember Regina; she used to do a fantastic job.
"I was still not in media at the time, but I remember looking at that and wanting to do something similar. It looked really fun and definitely matched my personality. I have a big personality, uncontainable so I feel it is where I would challenge myself next," she wrote.
According to the Flair by Betty founder, landing a job as the Big Quiz Show host has brought her a step closer to achieving her vision.
Betty also prides herself in maintaining her niche, which is the typical family setup, and have every member enjoy the program while helping change individuals' lives.  
"What I love about The Big Quiz Show is that we get to give money. I mean, everybody loves money. And because of the pandemic, many people have been held back and are not able to afford one or two things. Another thing is that it is a family-oriented program. If you have followed me for some time, you will realize I'm one of those people who want kids to watch my show. Big Quiz has given me that opportunity you know to have family members enjoy together," she added.
Career transformation 
Touching on her previous career adjustments, Betty explained that because of her go-getter nature, she is constantly on the lookout for opportunities to better herself in every aspect of her life, which sometimes results in her moving to new places.
Oblivious of the high risks that come with sampling multiple opportunities, the mother of one explains that her risk-taking nature has taught her so much that she wouldn't have known if she had not tried at all.  
"As human beings, we need to challenge ourselves every other time, you know. I don't believe in staying stuck in one career, and even sometimes, when I talk to my mom, she tells me how she worked in the same company for 21 years and question how that is possible. Because I believe as human beings, we need to give ourselves new challenges and experience new things. I mean, I'm a young woman, and I have so much energy and so much potential; where will I take all that to?
"Leaving KTN was an opportunity for me to grow, which I did. I needed a new challenge, I experienced it, and I loved it. And through that, I think I became a better news anchor and interviewer than I was. The journey for me has been so much fun; I wish every young person can experience as much fun as I had in my career, even becoming a businesswoman and trying out different things," she said.