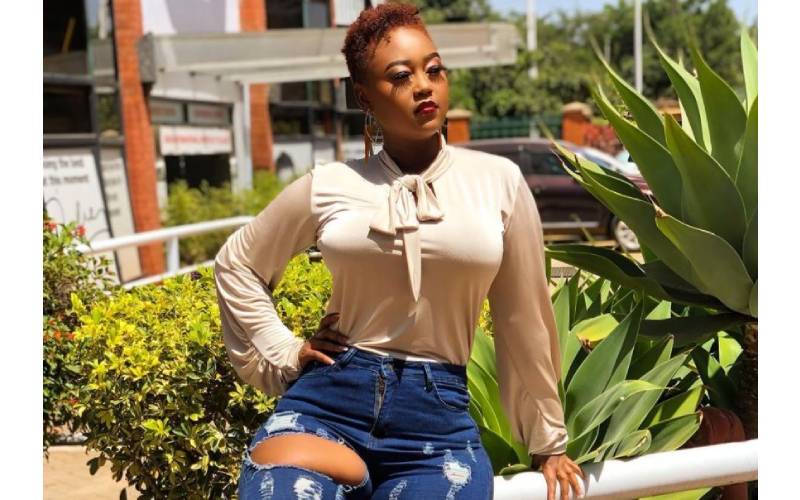 Rapper King Kaka's wife, media personality Nana Owiti has opened up on being molested by a close family member tasked to take care of her and protect her.
Narrating the horrific experience to her fans via Instagram, the mother of two admitted to struggling to erase memories from her mind without success.
"This has to be the hardest caption I had to write. As I write it, I'm fighting back tears, trying so hard to erase the pain that that monster put me through. Years may have passed, but the painful memories are etched deep in my mind. The man that should have protected and cared for me did the absolute opposite.
"Night times at my mom's were the hardest as long as he was there… Bedtime meant I had to fall prey once again to the jaws of a predator. As I recollect those harrowing ordeals, I pray that I may strengthen someone going through or has gone through sexual violence. You are not what happened to you; you are what you choose to become. I pray that you truly heal," she wrote.
Nana was only 9 when she was taken advantage of and for the longest time blamed God for her desolation, which went on for quite some time without her mother's knowledge. 
"At about 9yrs when he first touched me inappropriately. For a minute I blamed God. Why did he let it happen to me? Why didn't I have the strength to stop him from carrying this gruesome deed. Narrating this story, especially in front of the cameras and the world was hard, but I had to have my power back. I wanted my voice back. I didn't say anything because the baby me thought I would get blamed for it or no one would believe me. He assured the baby me that no one would believe me and in the most of the modest words I knew…
"I tried to tell my mom, and she missed the point. That night he did it with arrogance. It's been decades and sadly he may not remember what he did but to me he's held a part of my life captive... My mom is long gone, and this is my deepest regret. That I never told her in black and white. I still harbor deep resentment. I haven't seen him since somehow mom sent him back to his village that's miles away from our village.
After years of concealed bitterness and resentment, Nana is finally open to letting go and healing for her own sanity.
"Finally now I want to truly heal. I want to be able to forgive him not because he deserves but because I deserve peace. I want to break away from his jaws mentally.
"My heart goes out to anyone going through sexual violence or has gone through it. May you receive healing. My healing starts tomorrow with a therapist. Wish me luck," she concluded.