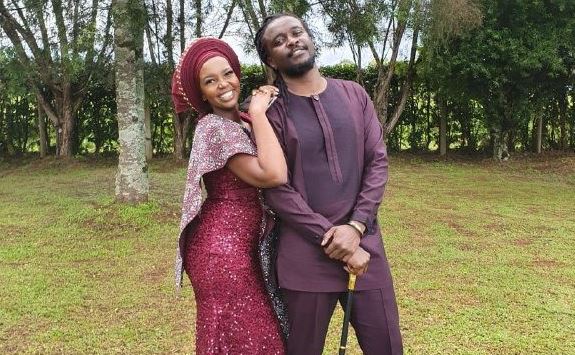 Popular Rapper Nyashinki's wife, Zipporah 'Zia' Bett, has opened up on her struggle with weight gain right after giving birth to their first child.
Talking about her journey via Instagram, Zia admitted that she hated how she looked due to sudden weight gain, which reflected on how she felt.
In an attempt to change her situation, the Ziafrica CEO embarked on a weight loss journey that has evidently yielded impressive results.
"I've really debated posting this transformation, only cause I can't believe that's how I'd been walking these streets & no one told me but honestly, after bringing life into this world, anything beyond taking care of a new born is a favour. Though, I vividly remember looking in the mirror & just hating how I looked and felt. I didn't want to feel like that anymore. I knew I could look better, I knew I could feel better," she wrote.
Zia disclosed that shifting from a carefree lifestyle to a healthy one is not as easy as many people would want to believe. According to her, it requires patience and dedication to allow a natural transition.
"If that's you regardless of whether you've had a baby or not, the biggest lesson I've learnt in my health and fitness journey so far, is to break that mental cage. Take it a day at a time. I've tried keto, healthy eating, working out so many times and it does get overwhelming to imagine your life without all those delicious things, or just magically going to the gym every day.
"But just put your mind to that one day. 'Today, I'm eating healthy' and that's all you focus on that day. Tomorrow will figure itself out. Then do the same thing the next day & the next day. When the day gets hard, break it down to hours. 'This hour I'm eating healthy' until you acquire that discipline," she added.
The renowned businesswoman concluded by committing to help anyone looking to lose weight by giving them tips and tricks that helped her.
"I feel strongly to share my journey cause I know weight loss/staying healthy is a battle we all struggle with. I'll strive to be as real as possible, in the hopes that I'll inspire even if it's one person."
Lockdown weight loss
With her new body transformation, Zia has joined a growing list of Kenyan celebrities using lockdown time to work on their physical appearance.
Popular YouTuber Yummy Mummy recently revealed that she shed over 30kgs since giving birth to her last-born daughter in January 2020.  
"What a difference a year can make. Last year February and today. Almost 30kg down and loving it. What has worked for me - Eating mostly low carb, focusing on protein, veggies and fruit in moderation. Drinking loads of water. Working out 3-5 times a week every week (CrossFit for the past 5 months). Getting as much sleep and rest as possible in between and avoiding stress. I'm hitting my one-year fitversary in March and I can't wait to see how much further I'll go. It is Jesus," she wrote.