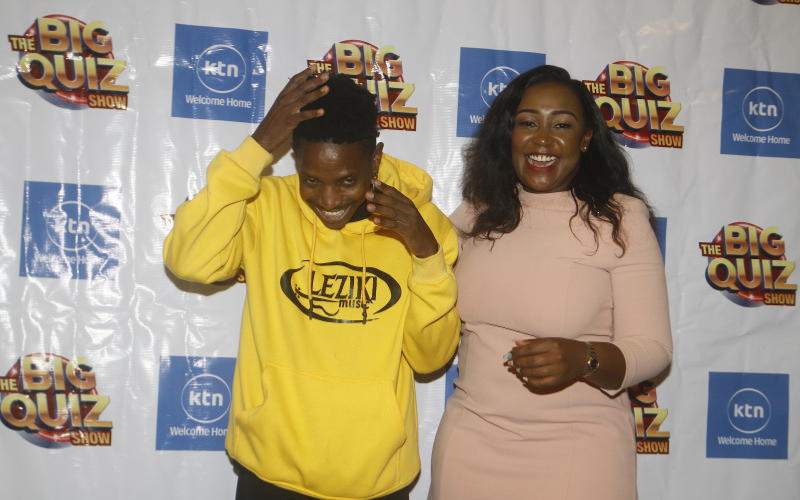 You have most likely seen bubbly TV personality Betty Kyalo and comedian Eric Omondi doing advertisements for a mystery show, either on their social media platforms, television, or on The Standard newspaper.
The mystery has now been unveiled. The two popular personalities will be hosting a weekly show on KTN Home, dubbed The Big Quiz Show, which will air on Sundays at 8pm.
How to participate
To participate, one should register by texting the word 'join' to the number 23774.
The participant will then receive a call-back message, asking them to pay Sh150 via M-Pesa. After paying the registration fee, the player will receive another message telling them that they are successfully registered to The Big Quiz Show, meaning that they are from that moment eligible to participate in the show on Sunday between 8pm and 9pm.
"On the D-day, all you need to do is have your mobile phone with you. Type 23774 as the number and then the hosts, Betty and Eric, will take you through the rest," says Patrick Ojil, Executive Director of the show.
The game show has several categories, which all involve simple multiple-choice questions. The categories include sports, general knowledge, science and technology, people and places.
"Your job is to answer 20-second questions as fast and as accurately as possible. Speed and accuracy are what is being tested. The system is programmed to pick the fastest and most accurate answers from only the people who registered, and it will give us 100 winners every week," adds Ojil.
Number one will walk away with Sh1 million, number two Sh300,000; number four up to 100 will be awarded between Sh1,000 and Sh20,000.
Also read: Betty Kyallo back at KTN
Players will be charged Sh40 to answer the questions, and someone can be a repeat winner.
The CEO of The Big Quiz Show, Dan Odhiambo says the show is not only a platform for entertainment and cash prizes but one that gives back to society.
"We are donating 25 per cent of the proceeds to charity. We have partnered with Thogoto Home for the Aged for the first season. In future, we are going to expand our charity partners and we will be looking at areas of health and education," says Odhiambo.
"We want to touch lives by people winning and also by being socially responsible and cognisant of the environment where we do business."
The bold message that the show is sending out is that The Big Quiz Show is neither betting nor gambling, but rather it is players using their wits to win.
"Season One will run for 13 weeks, and we have signed a five-year deal with The Standard Group to air (the show). This is a show that enhances the spirit of research, reading and seeking knowledge. Finally, we are saying that there is a reward that is coming with the application of knowledge," says Ojil.
It departs in structure from the typical game show.
"This is an amazing innovation. Traditionally, how game shows are structured such that they are pre-recorded, a few people are invited on set, they go through the motions, and then prices are won. Now, what we have managed to do that has never been done anywhere in the world is that we are leveraging on technology to get more democratised access to the public to be able to participate in a live game show at the comfort of their homes and win instant prices," adds Ojil.
Social distancing guidelines for Covid-19 prompted the creators of the show to come up with a software that will collect data and identify winners as they play. They had to figure out a way for people to participate in a game show from the comfort of their homes.
"The fact that we have a software that is capable of picking the fastest and the most accurate answers is an innovation that we are proud of and is what has never been done before. It calculates, tabulates and gives us results in real-time," says Ojil.