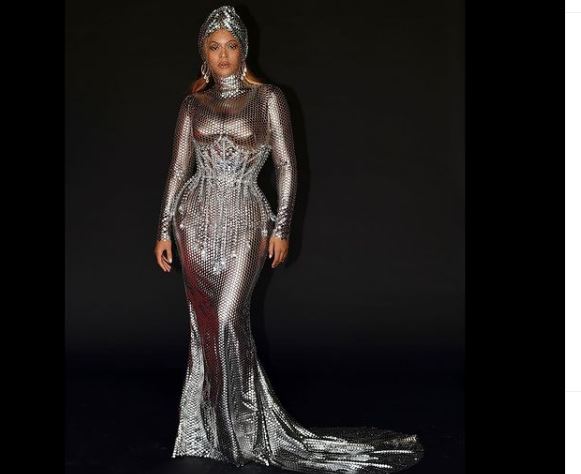 It is not news that by now the whole world is aware of how Beyoncé made history by breaking the record after being the only artiste to win the most Grammy's in history. She now boasts of a total of 28 Grammy's.
While this happened, Queen Bey, who is also a fashion icon turned heads with her outfits for both the award ceremony as well as the after party.
It is only safe to say that it was a double win for the singer.
One of the biggest mysteries surrounding her looks however is her black strapless mask. She paired her highly-talked-about mask with a black leather off-the-shoulder mini-dress that had a plunging neckline and completed it with dramatic earrings.
ALSO READ: Beyoncé, Taylor Swift make Grammys history
While we may not know how she was able to have her strapless mask on the entire time, we must all agree that that was epic, after all, she is the queen of her own beehive.
Netizens, specifically on Twitter, were quick to react about this.
"Her mask just defying the laws of gravity. The power of Beyoncé", read one of the comments.
"Beyoncé's mask staying on with no straps? Her power."
ALSO READ: Beyoncé and Jay Z's daughter Blue Ivy wins her first Grammy at age nine
"We too broke to understand. Beyoncé mask probably got a fan built in it."
"I mean...if I were a mask, I would also just stick to Beyoncé no matter what."
Her amazing fashion choices extended to the after party where she blinged her way in. Again, her face mask was striking.
She opted for a sheer face veil which obviously complemented her entire look and as always she made the cut for the best dressed. ?