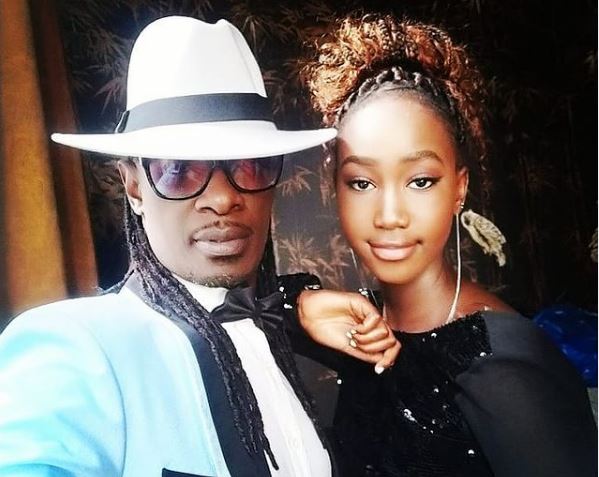 Judging from their bond and online chemistry, it is safe to say that veteran singer, Nameless has found himself a best friend in his teenage daughter Tumiso.
The two are often seen on social media doing dance challenges and enjoying each other's company, lighting up everyone's mood.  
According to the Sinzia singer, his relationship with his daughter has come a long way. Opening up on some of the decisions he consciously made to enable his daughter to get close to him, Nameless stated that he chose to become more open and understanding.
This way, his child gains a sense of security and becomes open and, as a result, talks to him about anything she is going through, even if it involves intimacy.
"As a father of girls I have decided to create an environment that allows my daughters to tell me anything without fear of judgment, especially my firstborn @tumi.mathenge, who is a teenager. I want her to be able to talk to me about anything, including questions on sexuality so that she does not get confused by the peer pressure that comes with that," he wrote.
ALSO READ: Nameless almost dumped Wahu for an engaged radio presenter
Nameless called upon fellow teenage parents to accommodate their kids to build a healthy relationship with them.
"I believe teenagers should abstain from sex for many reasons, but it is important that they truly understand the reasons so that they make that choice themselves. Parents of teenagers, we are together... Let's find ways to share our experiences and help each other bring up a well-rounded generation...," he added.
Speaking during a previous interview with Word Is, Nameless admitted that having an adolescent was challenging. Instead of being the typical controlling parent, he allows his children to realize themselves as they progress in life, a move he says will promote independence.  
"Bringing up Tumiso has taught me so much. I learn things from scratch because some of the things we had been conditioned to believe were not true or effective. I am learning what adolescence is all about. I am very big on matters emotional intelligence, emotional health and I read as much as I can on the same.
"We do not have all the answers, but we go through it together. We are not always quick to punish because sometimes a certain behavior may be her way of seeking out our attention. Often we sit down and talk to her, and no, I am not the type of parent who dictates who their child dates," he said.
ALSO READ: Wahu and Nameless love story 15 years on
What I want my kids to remember me for
"I really want to be able to feel like I gave them good lessons to be able to live their lives in the best way possible and to enjoy themselves. I want to give them the right basis and foundation and I have taken that very seriously. That's why I want to understand life better so that I give them an opportunity to be themselves. I don't want to influence them in the wrong way with my own issues."
" I want them to realize at some point that "Dad did this for us". He really gave us a good independent mind to think through things critically. He let us be who we wanted to be. He gave us confidence and a good general roadmap for a purposeful life. I really want to be like that. Like a life coach but as a father," he added.