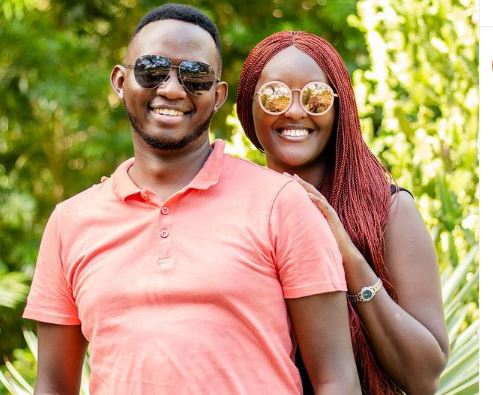 Daddie Marto's wife, Christine Kokueendera, has evidently been missing in action ever since their second pregnancy announcement a few months ago.
Updating her fans on her health via her Insta stories, Koku admitted that she had been stuck in bed for the past 10 weeks, unable to do anything.
With the little strength she had gained, the expectant mother of one treated herself to a pamper day at a hair salon and described the experience as a relief.  
"This has been such a difficult time for me. I have not been taking care of myself so having this little energy to do my hair was a relief. For 10 weeks, I have been in bed. I was literally bedridden, but I'm here. Even this will overcome," she said.
Not only was she able to step out, but Koku also regained enough strength to prepare a meal for her family, something she says she was unable to do in the past weeks.
"I cannot believe this is me! For the first time in months, I've left my sick bed to cook for my family. I'm so thankful. Let this jolt of energy continue and keep increasing! I want my health back. I want my energy back. I want me back. Health is wealth let no one tell you otherwise," she added.
ALSO READ: Daddie Marto, wife Christine expecting their second child
Opening up in a previous post, the bubbly social media sensation admitted that her pregnancy was putting her down but would soon regain her strength to get back to her daily activities.
"I know I have lost weight, so much that my clavicles can be seen but helloooo people. I know I've been missing in action but I'm starting to feel like myself slowly by slowly. Just this small pregnancy is putting down a giant like me. Thank goodness for this Dera dress because I can't be bothered," she wrote.
Pregnancy announcement 
The elated couple shared the exciting news with their fans during a Question and Answer session on Instagram. Daddie Marto explained their decision to keep the news from netizens until they felt ready to share.
In the post, Daddie Marto disclosed that because of the nature of their work and the unknown effects pregnancy has on different individuals, they decided to buy time to see how things pan out before going public with the news.
ALSO READ: Martin Githinji talks his award-winning role on Sue na Jonnie
"Yeap! I can't believe we are back here again already. Most people share such news after the first trimester; we came out because of the nature of our job and how pregnancy affects her badly," he revealed.
Considering the highs and lows that come with most pregnancies, Daddie Marto hoped that their second pregnancy journey would be much easier than their first one.
"We hope it will be different this time. Despite all, she understands that the job must be done. That is why I really love and respect (my wife) despite everything we go through that puts us on opposite sides. We sometimes agree on a bottom line and we progress," he added.