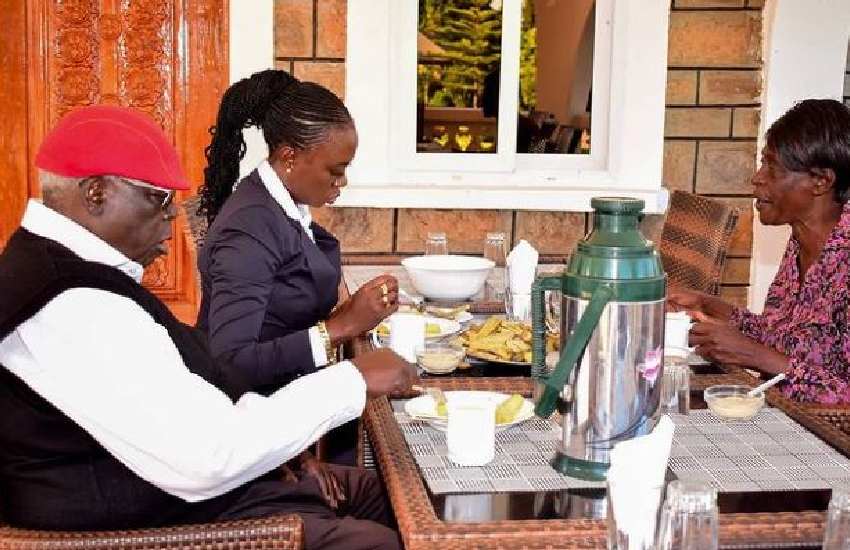 Akothee Safaris CEO Akothee on March 12, 2021, disclosed that her mother Monica Yunita Kokeyo was openly displeased with her decision to split from her ex-husband Jared Okello.
Opening up about the separation on her Instagram account, Akothee narrated that it took time, and a lot of convincing, for Monica to accept that her marriage to Okello was over. "My parents give me strength, they are proud to see me happy. It took my mom time to believe I can make it outside marriage, she pleaded with me to go back to my first marriage over time. She could not allow me to introduce her to any [other] man," wrote Akothee.
Read Also: Singer Akothee reflects on humble beginnings, motherhood
Monica only let Akothee be after the singer persuaded her that she was willing to engage and co-parent with the father of her three daughters; Vesha Okello, Agrrey 'Rue' Dion and Fancy Makadia. "She only knew one son-in-law, she only dropped this thing when I told her, 'Mum, I will not go back to my ex. But we can be friends and keep at it as a family. We have kids'. She laughed. She stopped worrying about me, and now we are great of friends," she added.
Her father, Joshua Owino Kokeyo, was, on the other hand, more accepting of the separation. "My dad is the opposite, a man of few words, Josi, just buy him a phone, load credit and give him some pocket money and he will welcome that visitor you have brought to him. Take care of your parents as if you were born alone."
Separation
Married to Okello for close to 10 years, Akothee in a previous post urged couples to find amicable ways of separating without dragging children through the murk. "I would never wish for any parents to divorce after living together for years and bringing up their children as a family. If it ever happens that there is a need to break up, then please try to do it decently without involving your children," she advised.
Read Also: Akothee flaunts palatial house, explains why home-ownership is key
Akothee revealed that her children only got to know about the experience on social media when she opened up about it. "My children thought I have all solutions in the world and that's my strength," she said, adding that she made sure she gave them the best life. I forced every man in my life to love my children equally but never asked them to call any of them daddy."