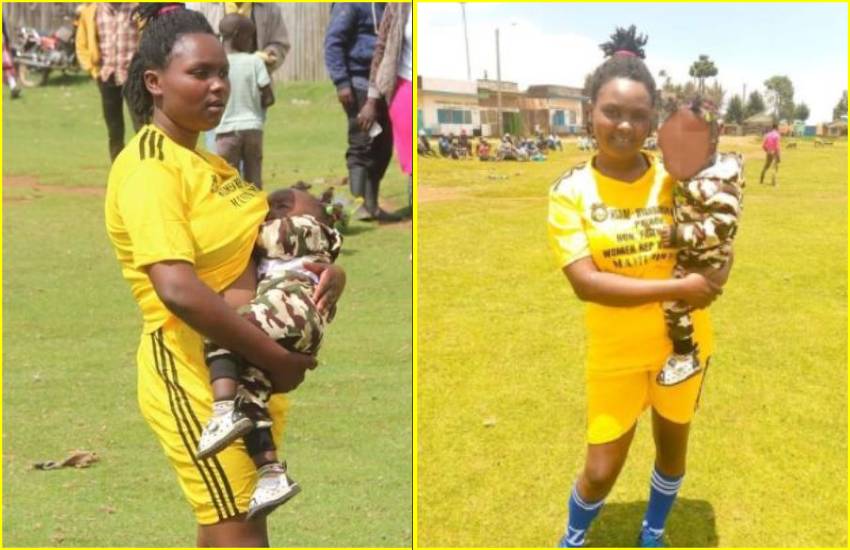 A lactating mother who was photographed breastfeeding her baby during a break in a football match has been promised help by several well-wishers.
The woman, Winnie Wambui Kamau, is a player for Karangatha women's football team, alias Marvel Dadas, in Nyandarua County.
Away from the pitch, the 23-year-old Wambui is a mother of a one-and-a-half-year-old baby and a marketer at a mobile phone shop at Njabini trading centre. When she goes to work, she leaves the baby with her grandmother with whom she lives.
Read Also: Kudos to mums who have no qualms breastfeeding
On Monday, Nyandarua Woman Representative Faith Gitau organised a tournament for women football teams in her county to mark the International Women's Day. Wambui was ready for the tournament but she did not know that she was about to become famous. That day, her grandmother had a business to attend to and could not remain with the baby.
Determined not to miss the match - as she is a valued striker for her team - Wambui went with her baby. "I had a tough day during that match, I could not understand why the baby kept crying minutes before we started the match. I breastfed her first but she could not stop crying," she recalls.
During half-time break, Wambui decided to breastfeed her baby as she prepared for the second half. Someone took photos of her and later shared them online.  The photos went viral and Wambui's phone could not stop ringing. "On Thursday, I was shocked to receive calls from different people congratulating me," she said. "I made a promise to God that my child will never lack after we separated with the father."
She hopes to pursue her football career while raising her daughter, despite having challenges in balancing the two. Gitau said she was glad that many people promised to support Wambui to grow her talent and feed her family. "Wambui has now been recognised nationally and we hope people will assist her and her family. "It was God's will that on that day, she went with her baby to the match as she always does when training," said the legislator.
Read Also: Why slay queens shun breastfeeding
Wambui attended Muchibao Primary School before joining Muchibao Secondary School in Kinangop where she sat her KCSE exam in 2019. After school, she joined Karangatha football club.