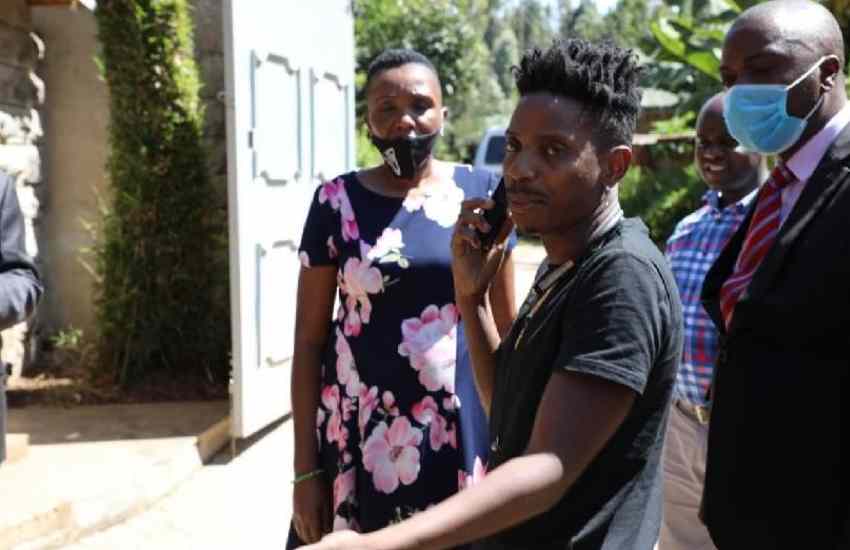 Eric Omondi is free. The comedian was released Friday, March 12, on a Sh50,000 police bond after spending the night in police custody over unauthorized 'Wife Material' content. He is set to appear in court on March 18, 2021.
The 'President of Comedy Africa' was arrested Thursday afternoon by Kenya Film Classification Board officers and detectives from the Directorate of Criminal Investigations (DCI) for violating the provisions of the Films and Stage Plays Act, a day after he unveiled season two of Wife Material contestants.
Read Also: Eric Omondi receiving threats from neighbours?
According to KFCB, the production and distribution of Wife Material was contrary to the Act's provisions which prohibits the exhibition or broadcast of films without a certificate of approval; injuring its obligation to protect children from exposure to harmful content.
"The Board will take all possible legal means to curb production and exhibition of unauthorized films on any platform meant for public exhibition," warned Mutua.
Taking to Twitter to reiterate the board's stand on acts of moral turpitude, Mutua said the regulator's war was not on artists but on persons and platforms which abate the decay of values, principles, and traditions.
He highlighted the case of Lawrence Warunge, who allegedly committed cold-blooded killings in Kiambu after getting inspiration from the British spy thriller Killing Eve. The 22-year old is suspected to have killed his father Nicholas Njoroge Warunge, mother Ann Wanjiku, adopted nephew Maxwell Njenga, brother Christian Njenga Njoroge and farmhand James Kinyajui Wambaa on the night of January 5, 2021, in Karura Village.
Read Also: Eric Omondi offers to pay Dr Ezekiel Mutua 750,000
"The war is not against artists or the youth. It's against dirty content. The intention is not to harass artists or stifle creativity. The idea is to promote clean content and protect children against exposure to adult content! No country can develop without a moral foundation. Allowing the production of pornography, unlicensed and unrated content is against the law. What happened in Kiambu where a young man wiped out his family should bring us back to our senses."