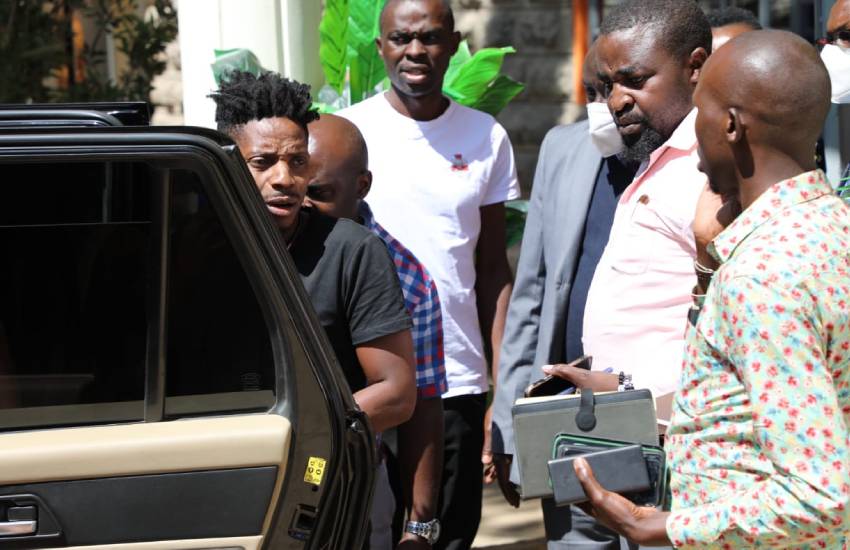 Twenty 'Wife Material' Season Two contestants drawn from Uganda and Tanzania risk arrest for working in the country illegally. This is according to the Chief Executive Officer (CEO) of the Kenya Film Classification Board (KFCB) Dr Ezekiel Mutua.
Speaking to Standard Entertainment & Lifestyle, Mutua disclosed that 'Wife Material' creator, comedian Eric Omondi, failed to acquire requisite work permits and licenses for the controversial show's production and distribution.
Read Also: 'Wife Material' cost me sponsors, reveals Eric Omondi
In a March 11 statement, Mutua explained that Wife Material Season Two had classable elements which were produced and distributed without authorization; violating the Films and Stage Plays Act Cap 222 of the Laws of Kenya.
Mutua noted that the board will take all possible legal means to curb the production and exhibition of unauthorized films on any platform meant for public exhibition.
"No film or class of film shall be distributed, exhibited, or broadcast, either publicly or privately, unless the Board has examined it and issued a certificate of approval in respect thereof… Protection of children from exposure to harmful content remains our core mandate and any artist producing any content for public consumption must ensure that they comply with the provisions of the Films and Stage Plays Act," read the statement in part.
Responding to criticism that the watchdog was at the frontline of a culture clash, Mutua underscored that the arrest was not a witch-hunt but an execution of its mandate in the fight against moral decadence.
"The war is not against artistes or the youth. It's against dirty content. The intention is not to harass artistes or stifle creativity. The idea is to promote clean content and protect children against exposure to adult content! No country can develop without a moral foundation. Allowing production of pornography, unlicensed and unrated content is against the law. What happened in Kiambu where a young man wiped out his family should bring us back to our senses," added Mutua.
Read Also: Eric Omondi under fire over scripted 'Wife Material' show
He pointed out that it is his duty to crack the whip and help reverse the wave of immorality which he said is destroying values and traditions, and enabled by the media. "I will do anything in my power to stop the negative effects of unrated content. It's a sacrosanct duty. History will be harsh to us if we fail to act now. The breakdown of our moral fabric has been to a great extent influenced by the media."