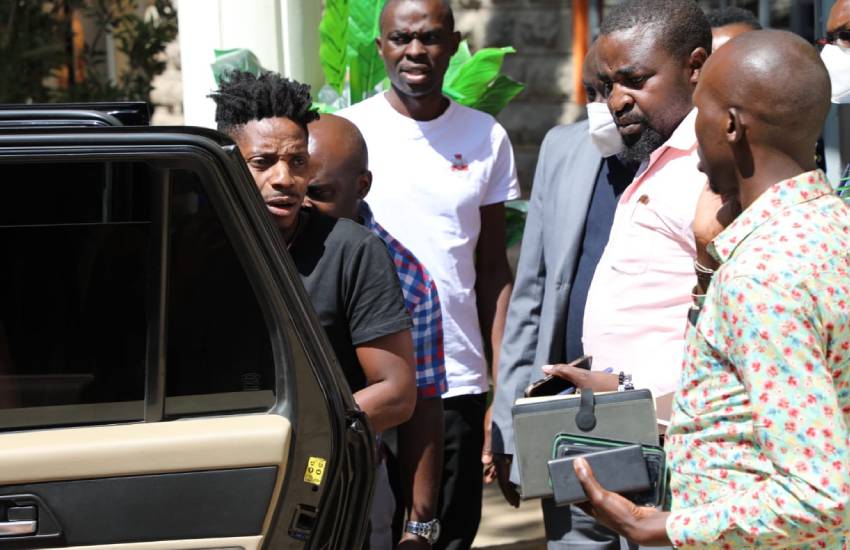 After trending on Twitter the entire morning as a result of his controversial reality show Wife Material', comedian Eric Omondi was on March 11, 2021, arrested for violating the provisions of the Stage and Plays Act.
The saga took an ugly turn Wednesday when Omondi uploaded a video on Instagram of two contestants drawn from his 'Wife Material' show exchanging blows at Blend Lounge Nairobi. The video which has since garnered over 400,000 views on Instagram elicited sharp reactions from netizens, including from Wife Material's constant critic, the Kenya Film Classification Board (KFCB).
Read Also: 'Wife Material' cost me sponsors, reveals Eric Omondi
The show, whose objective was to help the comedian find a wife, kicked off late 2020 with 10 contestants battling it out for Omondi's 'hand in marriage'. Omondi, according to the plot, was to select a wife by engaging the contestants in different activities such as swimming, bike racing, shopping and eat-outs to establish 'suitability'.
The season came to an end, amid accusation that the show was degrading women, after Omondi 'married' the winner - Caro, a member of 'Band Beca', in a staged ceremony marred with drama. Controversial socialite and contestant Shakilla stormed the wedding claiming she was with Omondi's child. He soon after revealed that the show was scripted.
Read Also: Shakilla - I own a house in Westlands, never dated a Kenyan man
Before the dust settled, the comedian announced the premier of Wife Material's second season, which he said would bring together women from across East Africa. When it launched, critics had a field day bashing the show for 'obscenity and immorality.' Many were, in particular, shocked after he shared a video of him and one of his contestants in a bathtub smoking.
While it is difficult to gauge the success of season two - yet, the arrest puts into focus the show's content and future.