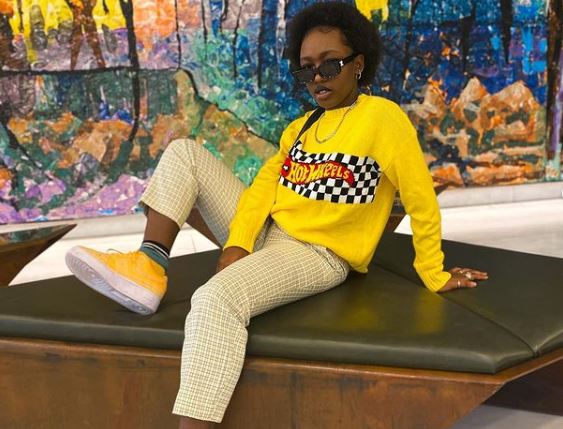 Instagram sensation Elsa Majimbo is not your ordinary comedian. Her satirical short monologues that feature her crunching potato crisps while using a pair of tiny 1990s sunglasses as a prop have caught the attention of many worldwide.
The 19-year-old rose to popularity during the lockdown period in 2020 following the Covid-19 pandemic after unleashing her comical skills and entertaining people online.
Her funny videos have become a global sensation that have seen her gain recognition from international celebrities, including American Rapper Snoop Dogg, popular comedian Steve Harvey, Pop singers Rihanna, and Beyoncé.
Since fame, Elsa has bagged several deals, including being a brand ambassador for Rihanna's Fenty Beauty Cosmetics.
Today, we look at all the awards and nominations she has received since she rose to fame.
ALSO READ: A look into Elsa Majimbo and Rihanna's friendship
Forbes Woman Africa Award
On March 9, Elsa won the Forbes Woman Africa Entertainer Award alongside sportswoman Hellen Obiri, the current 5000 meters world champion. The 19-year-old expressed her excitement on Twitter moments after she was digitally awarded.
"Thank you so much Forbes Woman for this award," said Elsa adding that she was "over the moon" for the recognition.
Thank you so much @ForbesWomen for this award . I am over the moon ♥?♥?♥? pic.twitter.com/no2qb3pq88 — Elsa Majimbo ???????? (@ElsaAngel19) March 10, 2021
E! People Choice Award
Elsa was ecstatic when she won the E! People Choice Award in 2020. She was nominated alongside Nigerian content creator Dimma Umeh, South Africa's Sho Madjozi, Thuso Mbedu, Wian, Karl Kugelmann, and Zozi Tunzi as well as Ghanaian actress Lydia Forson under the 'African Social Star 2020' category.
"I won the E! People's Choice Award! I literally could not have done it without all of your amazing support. This year has been a whirlwind of discomfort and confusion for everybody, but for me it's also brought with it a great lesson, that sometimes even the greatest obstacles in our path can be opportunities in disguise," said Elsa.
GQ Men of The Year Awards (South Africa)
In December 2020, Elsa won the GQ Entertainer of the year award.
Taking to social media, Elsa said, "You are looking at GQ entertainer of the year!!! I just want to thank me, I could not have done it without all my hard work and also s/o to my team and all of you for supporting me."
Streamys Award
Still, in December 2020, Elsa bagged an award from her role model, Lilly Singh, popularly known as Superwoman. Majimbo was awarded the 'Best New Comedy Creator of 2020', which was part of the annual YouTube Streamy Awards. While receiving the award, an emotional Majimbo said she didn't identify herself as a comedian.
"This is so nice, best comedian to come out of 2020. This is so amazing because I didn't even consider myself a comedian," said Majimbo.
Nickelodeon Kids Choice Awards
A few weeks ago, Elsa was nominated for the 2021 Nickelodeon Kids Choice Awards. The comedian will be facing other celebrities such as Miss Universe Zozibini, musician Master KG, beautypreneur Bonang, and actor Siya.
MTV Africa Music Award
The internet sensation was also nominated for the 2021 MTV Africa Music Award (Personality of the Year and Song of the Year).
The other nominees for this category include Siya Kholisi (South Africa), Zozibini Tunzi (South Africa), Sadio Mane (Senegale), Mark Angel (Nigeria), and Yvonne Orji (Nigeria).