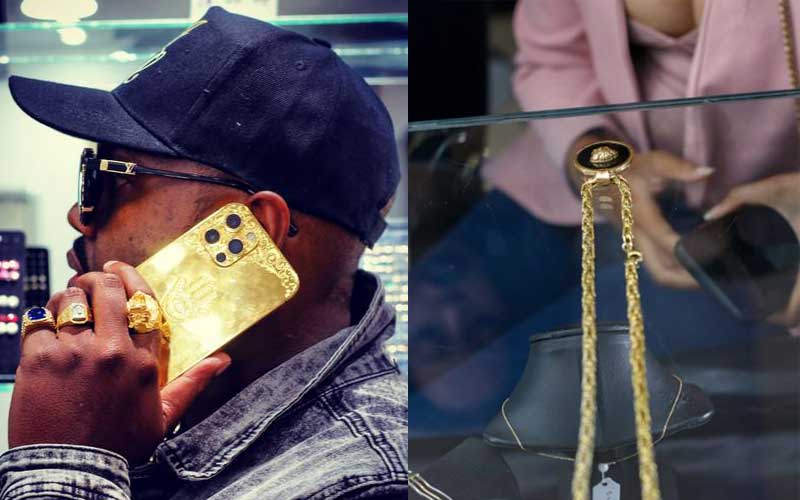 After publicly falling out with her former client Akothee, music manager Nelly Oaks is seemingly living life on the fast lane if his recent purchases are anything to go by. Via Instagram, Nelly recently shared a video and photos of himself purchasing gold jewelry at Galleria Mall in Westlands, Nairobi. In the video, Nelly is seen acquiring gold jewelry costing millions of shillings.
"I remember opening my dad's closet and there were like 40 suits, every color of the rainbow, plaid and winter and summer. He had two jewelry boxes full of watches, lighters and cuff links…He was that guy. Today my hard work has paid off," he wrote before thanking his jeweler, one Viral Pattni.
READ ALSO: Akothee bows to pressure, reveals Nelly Oaks' whereabouts
According to reports, the entrepreneur purchased among other items a gold Rolex watch, gold chain, lion ring with rubies in the eyes and gold cufflinks. A look at his Instagram page reveals that Nelly is living a luxurious life featuring exquisite holidays, champagne, luxurious cars and a lucrative deal with a high-end alcoholic brand.
Falling out
Akothee and Nelly were quite tight and at some point, rumour had it that they were dating. In 2018, the singer vehemently denied that he had proposed to her saying, "Nelly Oaks has not proposed to me, therefore I am not going to get into his plans. Maybe he has no plans for me. However, he is a good guy and if he proposes to me, why not marry him?
"Furthermore, we are not dating. We are just friends but our fans pushed us to say we are dating. We are not really dating. Maybe I do not know the meaning of dating but for us, we are just pals. Just because people see us walking and working together does not mean we are dating. We are business partners."
READ ALSO: Engaged? Akothee denies reports Nelly Oaks has proposed to her
Hiatus
After parting ways, Akothee was prompted to address his whereabouts following numerous inquiries from netizens.
"For those asking where my Nelly Oaks went to. He has gone back to school, for his Master's Degree let's all wish him the best of luck, tuache wivu and congratulate him congratulate my king for me now or I block you," she said at the time.
From his Instagram timeline, it's safe to assume Nelly is doing great for himself post-Akothee.