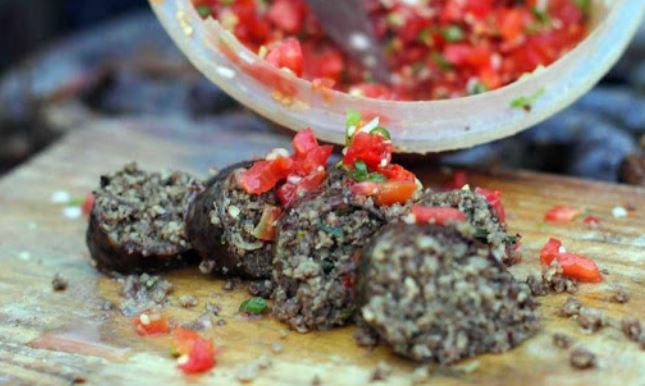 It is now a typical scenario, in Nairobi and major towns in our country, seeing mutura, mandazi, chapati, sausages, eggs, ground nuts, nyama choma vendors parading themselves in strategic places, in the streets and roadside, to attract their usual customers. 
Owing the hustles of fast-paced life in cities, especially Nairobi, and as result of the biting hard economic times, the struggling public find it easier to purchase and munch chapati, mandazi and drown it with a steaming cup of tea while standing by the roadside, or carry to the workplace, where tea may be provided. 
Let's not forget that boiled egg, sausage or smokie with hot peppered "kachumbari" which is a tantalizing delicacy when eaten after a busy day, or early in the morning, with plenty onions, to battle with "Monday blues." 
That mutura cut or roasted matumbo cut at Jimmy's is heavenly sent. The color and the roasting fatty flesh aroma is mouthwatering. "Tena kata ya mbao" you'll be heard saying after eating the first piece, again which means, "another one for Ksh. 20." Mbao is slang for Ksh. 20, adapted from financial history, when £1 was Kenya's twenty shillings, therefore, if you had Ksh. 20, they were equivalent to one British Sterling Pound. Pound later changed to "mbao." 
ALSO READ: City food vendors who feed two million Nairobians daily
However, do you know that such cheap, accessible, and ready to eat snacks, could be your potential monstrous health risk? 
According to some researches and reports by international environment lobby groups and think tanks, it is estimated that Nairobi is one of the most polluted and unsafe places to live in. 
This is necessitated by industries spread all over, which do not follow proper guidelines in terms of waste disposal, gas emissions as well. Some industries, clandestinely deposit waste into rivers. 
Another menace is the slum factor, which leads to polluting of rivers, by throwing of garbage into them, by the poor who lack proper disposal and sanitation mechanisms. Not proved, though, the handling of water from such sources by your favorite mutura or mandazi could be highly catastrophic. 
ALSO READ: How smart hawkers are making Nairobi a 24-hour economy
Not long ago, it was reported that vegetables and other foods, eaten within Nairobi contain high levels or hard metals such as uranium, lead, mercury, gold, silver among others. People walk on highly contaminated sewage and transfer the same dirt to roads. After drying, the dust may be blown to those open roadside food kiosks, and as a result, safety is highly compromised. In short, nothing eaten, is safe these days. 
Now, to the ready cooked foods: money, as a legal tender, is a paper or piece metal carried to purchase goods and for acquiring essential services. You will note that your favorite chapati seller Rose or Jimmy, your mutura vendor, holds your money, fumbles for change, gives change and using same hands, picks and wraps your nicety. How many people, do you think handle one piece of coin or note, within 24 hours, since it left your hands? Some who do not even observe basic hygiene standards. This is a potential source of the liver, and intestinal diseases, gastric and cancer.
For safety, the meat, mandazi, eggs, mutura or chapati seller can have someone to handle money, or institute "Lipa na MPESA" platforms, while they cook and serve, to avoid contamination.