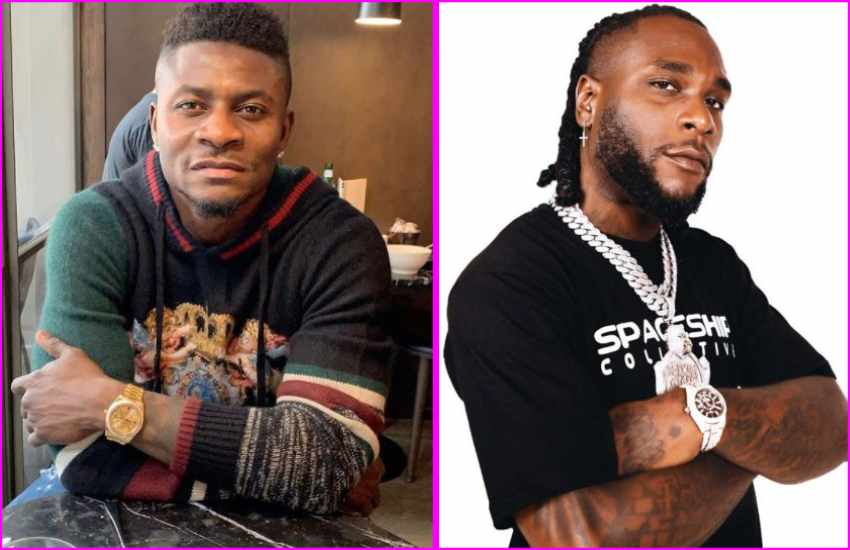 The beef between Afro-pop star Burna Boy and former Super Eagles star Obafemi Martins has been quashed. Taking to Instagram Thursday, March 3, Obafemi said reports of a rift between him and those from the singer's camp following a clash at a club in Lagos were false.
The former forward, who ended his time at Shanghai Shenhua having left Nigeria for Italy at age 16 and played for a number of top-division clubs including Inter Milan, Newcastle United, Levante and Seattle Sounders, called for restraint saying the misunderstanding was resolved.
Read Also: Escalating beef? Burna Boy, Davido clash at nightclub in Ghana
"I have been seeing a lot of allegations online and I don't appreciate our names being disgraced like this. We had some misunderstanding a few nights ago but this issue has been resolved already. There was no fight at Bayrock, the club is not even opened for clubbing. I just called my boys to talk about the issue there. I am a shareholder there, don't destroy my business o. There is always fight and love amongst brothers. You guys are making too much hype, forget it and carry on," wrote Obafemi.
Brawl
The fight broke out on February 28 at the exotic joint located in Victoria Island pitting businessman Rahman Jago - a known associate of Burna Boy, and an unidentified man, reports Pulse Nigeria. Obafemi, according to rapper CDQ, was partying at the club and had to flee after the brawl got out of hand. CDQ explained that Burna Boy's camp disrespected the ex-footballer by dragging him into their fight.
"Burna for the first time I'm disappointed in you! You and your boys need to apologize to Obagoal now! No let them deceive you with your village title say African gi-ant come they disrespect ObaEar Eko lonpe bi. Obafemi Martins is not anybody's mate extraterrestrial alien if we dey cry make we dey see," the rapper tweeted.
With that, the beef escalated. The rapper claims he was accosted and stabbed on March 1 by Burna Boy's associates for calling out the African Giant star. When news spread of the 'attack', CDQ's camp allegedly stormed the premises seeking vengeance, leading to a few other people getting injured.
Read Also: How Burna Boy is redefining music
In a video obtained by the publication, CDQ, who is seen spotting an Inter Milan jersey and bleeding above his left ear, confirmed reports that he called for 'reinforcement' but settled the fight after Burna Boy reached out to him.
"It was Burna and his squad, led by a guy named Richie, who later got stabbed as well. [My People] questioned Burna's sanity to do this in Lagos; not Port Harcourt or London. When [his camp] got done, I called my people over to retaliate against [Burna's] camp. [Burna] then took me to the hospital where I got two pints of blood last night. Later, [Burna] asked me to enter the club and have a few drinks, so that people could make a video to prove that everything was settled," said CDQ.