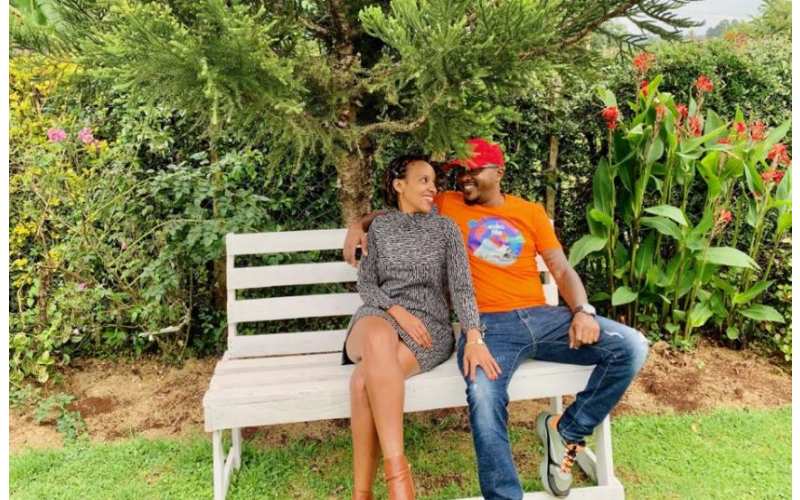 George Njuguna, popularly known as deejay Crème de la Crème, has finally proposed to his long-term girlfriend and mother of his kids, Denise, after 14 years of being together. Posting a hand photo of his fiancée with the ring on, the deejay admitted to putting Denise through a lot, adding that he wants to love her forever.
"It took me 14 Years. 14 Loong Years to ask my Best Friend, My confidant, Mother to my kids, My Forever Person to Marry Me???????????????? I Know I've stressed you out so many times @deekingsky, but My Heart and All I got belongs to you. I wanna Love you forever," said Crème de la Crème.
Following his announcement, Kenyan celebrities and fans quickly poured congratulatory messages to the deejay and his new fiancée.
ALSO READ: Dj Crème de la crème and wife expecting third child
Relocating to Kericho
Dj Crème recently relocated to Kericho with Denise and their kids due to the effects of Covid-19 on his career and the entertainment industry. Speaking to The Standard Entertainment, the celebrated deejay said vowed never to return to Nairobi despite operating in the city for 17 years. He claims life in the countryside is much better, and it's cheaper and more peaceful.
"As it is with life in Nairobi, you will find that you are making money just to pay bills. If you compare life in Nairobi and Kericho you will find that life here in the countryside is cheaper and a person can save more and lead a better quality life.
ALSO READ: Covid-19 pushes DJ Crème de la Crème to take a big gamble
"I'm never coming back to Nairobi. Now my family loves the peace and quiet of the countryside. I was born and raised here. And now after the lessons that came with the pandemic, reality has now struck me that life is more practical here, not in the city," he said.
According to the deejay, his wife had a hard time relocating to Kericho, having lived in the city her whole life; however, they needed to do what was best for their family.
"My wife couldn't believe we were actually moving, but this was important if we were to manage life through the hard times. We had to swallow our pride, even as everyone wondered how I, arguably Kenya's best deejay, would move back to what you would call village life. I knew this was the only way out and explained to my wife that we would start all over again," said Dj Crème.