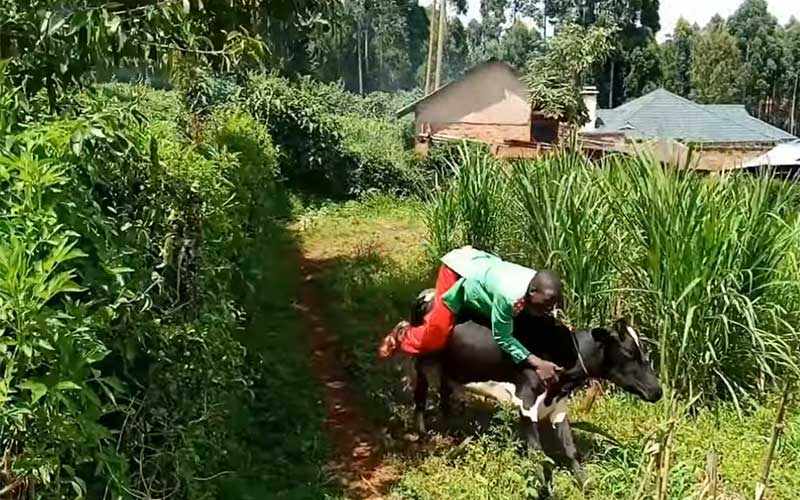 In recent times, a Kisii musician has captivated the nation with his over the top antics which have gone viral on social media. Just four days ago, Embarambamba released perhaps his most controversial video yet. Dubbed 'Embarambamba live performance from the forest na ng'ombe', the gospel singer is seen running around in a garden and at one point, jumps atop a terrified cow. The startled cow proceeds to throw him off its back before running off. In another scene off one of his music videos, Embarambamba is seen lying in the mud while donning a white suit.
His antics have prompted the launch of a petition calling for him to be barred from performing such stunts. The petition addressed to the CS Ministry of Health, Kenya Mental Health Board, Kenya Psychiatrists Association, Kenya Film Classification Board (KFCB), Kisii Council of Elders among other bodies said that the singer's antics might prove harmful not only to himself but also to fans.
READ ALSO: Meet Vekta, the artist behind Raila's favourite Kisii song
"Nguzo Africa on behalf of concerned Kenyans hereby petition the above-mentioned institutions to urgently stop the Kisii artist "Embarambamba" whose official names are Chris Mosioma from performing peculiar stunts that may affect his safety, followers and the environment," the petition read in part.
Mental state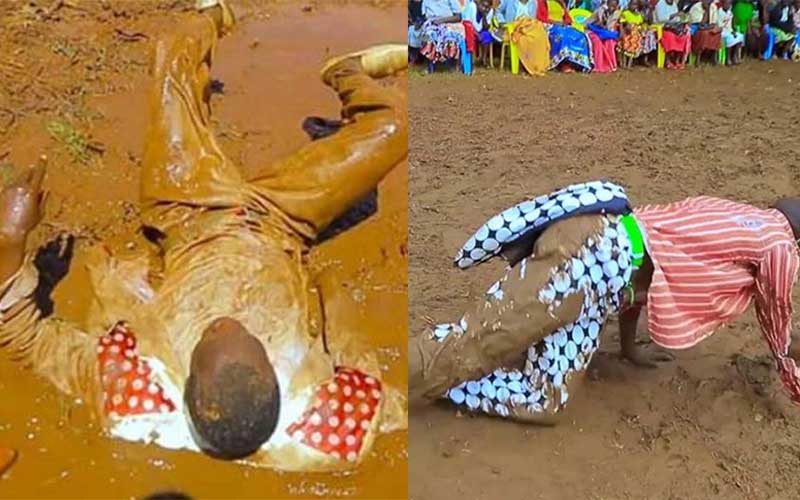 The petition further put to question the singer's mental state and called for authorities to conduct a mental evaluation on him.
"We are concerned that despite the artist's confessions that he gets overwhelmed with "Holy Spirit" when he performs, none of the concerned institutions has taken action to assess his state of mental health."
READ ALSO: Defiant Smallz Lethal speaks about song that landed him in trouble with Kisii governor
The petition called for Embarambamba's antics to be put to a stop "to minimize copying of the artist's stunts by young people."
While insinuating that Embarambamba's antics are an embarrassment to the Kenyan music industry, the petition claimed he is painting Kisii music in a bad light. It called upon Kenyans to sign the petition "For the dignity of the music industry in Kenya. Music is meant to entertain, educate and pass on good cultural values. Music was not meant to scare, embarrass, maim and destroy" and "To safeguard Kenya's brand. With the increased use of the internet, an outsider may classify the artist's music as Kenya's image. At the local level - Kisii music may be classified with these peculiar stunts."