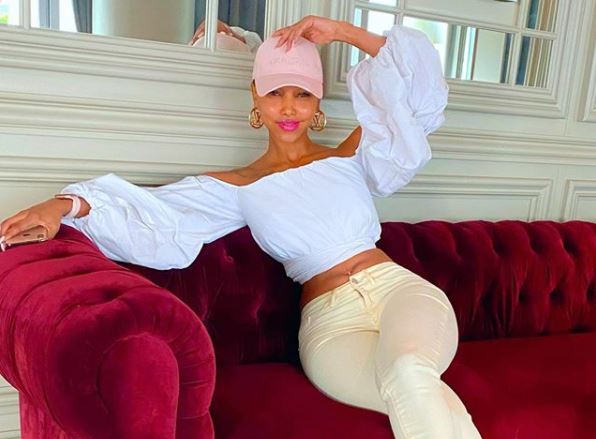 Socialite Huddah Monroe has apologized to anyone who got hurt by her remarks years ago concerning plus size women. The CEO of Huddah Cosmetics had a heart change after YouTuber Yummy Mummy explained what she hated and loved about the brand. 
"PR package from a brand I love and hate at the same time. Love cause the products are amazing-one of the best affordable local makeup available.
"Hate cause Huddah openly fat shames and said she doesn't care if fat people never use her products. In her words, we should all just go to the gym and lose some weight," said Yummy Mummy.
Following the Youtuber's message, Huddah responded and apologized for fat-shaming people years ago, adding that she loves everyone equally. 
ALSO READ: Huddah responds to claims of harmful products from her brand
"I'm truly sorry for asking inconsiderate questions on body types several years ago and apologize to anyone I hurt. If you knew me personally you'll definitely know I am never that types of person to hate on anyone, especially not on body as mine will surely not be this way forever. I love everyone equally. 
"But thanks to that, I used that experience to grow, helping others to understand how some statements are completely unacceptable as you never know who you hurt here on social media," said Huddah.
Fat Shaming Lizzo
A while back, the young CEO came under fire after reposting a naked picture of American singer Lizzo on Instagram and dismissed her as obese. Netizens highly criticized her sentiments, with most of them condemning her for 'body shaming' the singer.
Despite Kenyans' trolling, Huddah was openly unapologetic for her comment and cautioned people from glorifying unhealthy living. 
ALSO READ: Don't buy my cosmetics: Huddah dares plus-size women after fat shaming rapper Lizzo
"If you are fat you are fat if you are skinny you are skinny! Stop lying to yourselves It's criminal to call people fat but its okay to tell people they are skinny? Fat is unhealthy. So many skinny people are unhealthy too. I'm unfit, as skinny as I am, I call that spade a spade. Ati thick, are you porridge? Lets promote healthy living," said Huddah.
When an Instagram user tried to dismiss her off, telling her that the people she's body-shaming are the ones using her cosmetics, Huddah dared them to refrain from buying her products.
"People love being lied to. I'm not your liar. And most of you will still buy the healthy product we are about to launch low key coz you are not okay with how you look that's why you are so mad and offended at my comments. Otherwise you should be happy.
"And stop thinking coz I post cosmetics that's my daily bread! That's for your nosy asses to see online. I have many businesses. If cosmetics was feeding me and buying me houses, it would be so affordable! I barely make any profits out of it cozz I wanna make skinny and fat women look good. Si lazima ununue," she said.