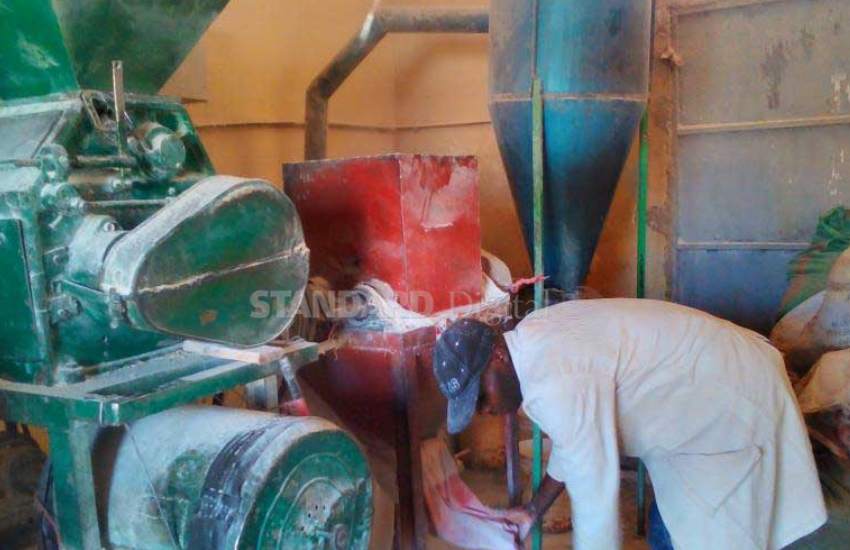 If you live in posh Lavington and yearn for mahindi ya kusagwa, you have to go to next-door Kawangware slums, the posho mill capital of Nairobi.
But you will never catch the well-heeled in their Brioni suits and Canali shoes lining up with gunias of maize outside posho mills. Rather, when the craving for ugali ya posho mill strikes,  they send Miss Mboch, the house boy or watchie to Kawangware, where the posho mill is the real deal, no wonder they operate 24 hours on either diesel or electricity.
Read Also: The dark side of Nairobi
So prized are posho mills in Kawangware, they were spared any vandalism during the political skirmishes following the disputed presidential elections in August 2017 when rowdy youth torched other properties, including shops, but kept off posho mills. 
Located 15km west of Nairobi between Lavington and Dagoretti, the slum has more posho mills than shops and bars, making an 'ugali nation' for it's over 135,000 mouths whose palates, unlike those of other Nairobians, have no time for supermarket unga, the grade-one sifted maize meal favoured by middle-class stomachs.
A good posho mill costs between Sh120,000 and Sh140,000 and the mills of Kawangware even dictate the mood of the residents. When there is a power blackout, life ebbs away, endless meandering queues of people waiting for posho thins. But when the power is back, life also returns to the slums.
Peter Michuki, a resident, says a relative of his owned a posho mill in Kawangware and "most of the customers came from Lavington, Dagoretti and Westlands, but you could easily tell they were sent by their employers. People love posho maize meal but they pretend because there is a perception it's for the lowly, so they use their watchmen and house helps to save themselves from the embarrassment."
Read Also: 10 key but overlooked people in Nairobi
Residents told The Nairobian that they prefer posho maize meal to sifted one because of its affordability. A two-kilogramme tin of maize costs Sh80 and milling costs Sh10 after five minutes.
There is also that small matter of communities that love ugali ya posho mill since Kawangware, though cosmopolitan, has a higher percentage of people from Western Kenya and Nyanza, whose staple food comprises an eternal supply of posho mill ground maize flour and hence the prevalence of the mills there.
Omariba Moses explains that "the posho mills are many because the Kisii and Luhyas are the main inhabitants of Kawangware. We naturally love ugali. I consider myself as an addict of ugali. If I don't eat ugali, I become weak. Walking becomes a problem, so ugali has to be a common feature in all my meals."
David Macharia, another resident, explained that the posho mills have created job opportunities and affordable meals and "we are lucky that we have many posho mills, meaning we cannot go hungry because the price of posho maize meal is affordable. I cannot buy sifted maize meal because I find it tasteless. I dislike packed maize meal because it doesn't satisfy me at all and it's expensive."
Read Also: Do you live here? List of Nairobi's top 10 'zombie' estates
But Esther Wanjiru has a bone to pick with the posho mills due to the noise pollution that robs people of their sleep. "These ngongoros make a lot of noise and sleeping at night is a problem. But we have gotten used to it. Children are the most affected. Imagine the inconvenience of a posho mill next to your house. You can't even have a decent conversation at home. You have to keep shouting."