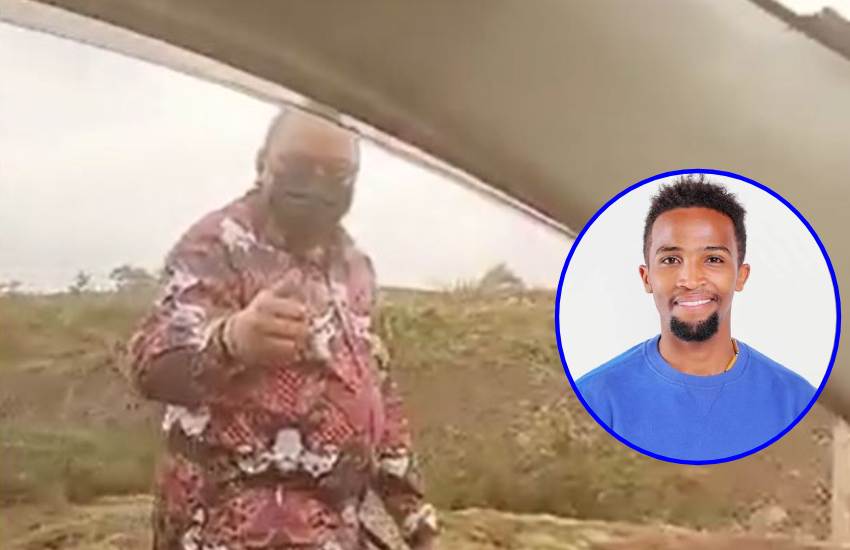 Selina lead actor Pascal Tokodi is Thursday under fire from a section of netizens over a request he made to President Uhuru Kenyatta following a chance encounter outside State House, Nairobi on February 24.
Read Also: Pascal Tokodi and Grace Ekirapa finally reveal they are married
In the 14 second clip that has since gone viral, a visibly frenzied Tokodi requested the Head of State to watch the show which airs on Maisha Magic East after bumping into him during a drive along State House Road.
"How are you, sir? Oh my goodness! What! Have a good day… Ona Selina! Watch Selina! Maisha Magic East," Tokodi can be heard asking Kenya's most powerful man, who in the video is seen rocking a floral-motif shirt, black trousers and what appears to be a cane.
Tokodi's move not to seize the rare moment to draw Uhuru's attention to 'real issues', according to some angered Kenyans on Twitter, was selfish - and a letdown. 
After not sijui 10 secs of meeting Uhunye and not grilling him about the economy, Pascal Tokodi is now Kenya's number 1 problem.

Even those who voted for Uhunye thrice are throwing stones at Pascal. — Magunga (@theMagunga) February 25, 2021
Pascal Tokodi blew his chance of a lifetime!! It might never happen again. I wish I was the one ! Yenyewe upele hushika mtu hajui kujikuna ! pic.twitter.com/v0s4t45Bmt

— Vic Chemical Brother KE (@Victor_isadia) February 25, 2021
Me hearing Pascal Tokodi telling Uhuru to watch Selina instead of asking for a share from the daily 2billon. Angeitisha hata Mpesa jameni. pic.twitter.com/88DZrivxOf — Mûndû Mûgo (@Mugo_Ndungu07) February 25, 2021
Now what will it change When the president watches Selina? Surely Pascal Tokodi#Selina#pascaltokodi#uhurudeliverswithoutruto — Elvis Kibet University of Eldoret (@Iamelviskibet) February 25, 2021
Criticism the actor shrugged off saying he has no apologies to make. "I am unfazed, no matter what… There are some who are saying I should have asked him about the curfew, and all these other things…but for those 15 seconds... I chose to speak for myself. The truth is, I asked questions about BBI etc. but the camera was off, would I lie to you?"
Read Also: Jubilation as Pascal Tokodi is crowned best supporting actor in Africa
A position agreed with by celebrities and fans alike, who in response, rallied to defend the 27-year-old for 'plugging his hustle'.
Kenyans just love being angry.
Pascal Tokodi asked the President to watch Selina.
HE IS AN ACTOR. THAT IS HIS HUSTLE.
That's a focused guy for me.
Extra points for not begging for handouts.
President was taking a walk. Even he needs a few minutes off Kenya's woes, FFS. — FERDINAND OMONDI (@FerdyOmondi) February 25, 2021
Pascal Tokodi endorsed his show, Selina. In those ten seconds, most of us would have asked for a selfie with the president. — Author Sakwah Ongoma (@CSakwah) February 25, 2021
Pascal Tokodi telling President Uhuru Kenyatta to watch Selina on Maisha magic he was right , He spoke according to the profession he is in of acting , The president will go sit down and ask what's is this Selina I was being told about , He might be his fan soon !????? — ???????????????????? ???????????????????????????? (???)????????????? (@FrankMtetezi) February 25, 2021
You must be so low IQued to think Pascal Tokodi could change the president's mindset on curfew and BBI.This is Kenya, safeguard what brings you butter on the table and Selina is what feeds Pascal.Anything state is no say to an ordinary citizen,even public figures!!!Wake up!!!! — Clive (@clivenamale) February 25, 2021
Kenyans bashing Pascal Tokodi like they make the best decisions during elections ???? — KIMANZI DON (@Kimanzi_Don) February 25, 2021
Y'all are busy hating on Pascal Tokodi while he trends and his rate card soars.

Product placement prices zishatriple.

Let us all learn from Nehemiah, so that when the king asks "What would you like?" we are ready with a pitch, sio kusema "Naweza jipanga nitume email Tuesday?" — ZionPearl (@zionpearl) February 25, 2021