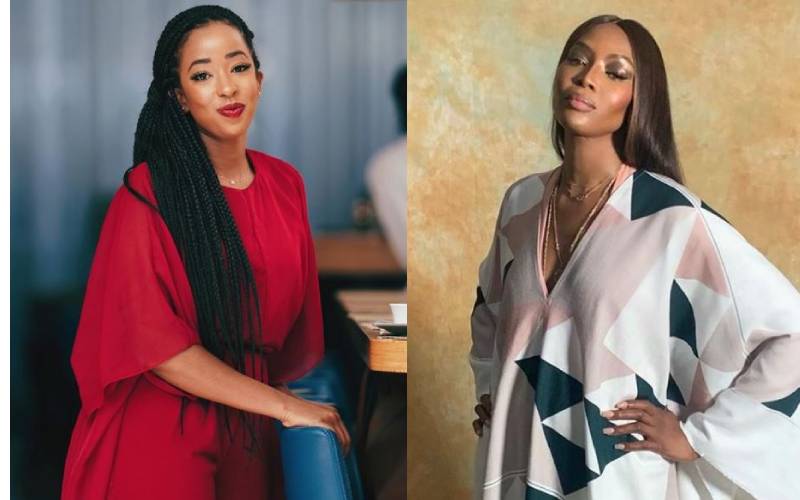 Kenyan Vlogger Natalie Tewa has joined several Kenyans in throwing shade at British Supermodel Naomi Campbell following her video promoting Kenya's tourism. First, the YouTuber started by implying that Kenyan travel bloggers/vloggers could have done a much better job promoting the video than how the model did it. Secondly, the YouTuber pointed out some of the basics that could have made the video a lot better.
"Kwani we don't have travel bloggers/vloggers in Kenya who can do a better job. Asking for a friend lol," posted Natalie. 
"Here are some basics… Footage is very shaky. Poor transitions. They tried to edit to the beat but failed. Amateur planning shots (the side to side movements). Quality is so low. There's no storyline, just a bunch of visuals put together, some don't even make sense. Wrong music!!! Surely. So much I see wrong with this video. If this thing is voluntary then fine… but if it's a paid ambassadorship, surely…," said Natalie Tewa.
About a month ago, Natalie explained her reduced social media presence after a section of Kenyans got concerned about whether the fitness enthusiast took a break or completely stopped being a YouTuber.
"I love creating content but lost my love for it because honestly not sure if it's worth the negativity that comes with it. I miss creating content too but my peace is just more important. Got tired of being wrongly judged," she said.
ALSO READ: Natalie Tewa explains why she stopped creating YouTube content
KOT reactions
We have great songs in kenya that Naomi Campbell could have used in her Video experience in Kenya..

This is Better ???????????? pic.twitter.com/rH18uor9Af

— UntitledHK (@UntitledHK) February 24, 2021
When the video first came out, a section of netizens on Twitter bashed the supermodel, especially her music choice in promoting the video. Most Kenyans felt Naomi should have used a local song instead of Nigeria's Olakira hit song Maserati. 
Steve Njuguna on Twitter says, "Haha Naomi Campbell actually did a video marketing Kenya and used a Nigerian song as a bedtrack. Na venye Kenyan musicians walimtetea online when we were questioning her capacity for Shithousery."
His sentiments were echoed by Prisca Anyango, who said, "Wow, I was hoping you could have used a Kenyan Soundtrack as well."
However, a tweep, Sakwah Ongoma, opined differently, saying, "When the remix of the song Maserati was released, it trended on Kenyan youtube for days. Burna Boys' song Onyeka has been trending on Kenyan youtube for a week now. But Naomi Campbell using Naija music is where Kenyans draw the line with Nigerian music."
ALSO READ: Naomi Campbell to become Magical Kenya International Tourism Ambassador
Naomi the Brand Ambassador 
Sharing the video on her IG tv, Naomi said, "I feel so privileged and honoured to be confirmed as Magical Kenya International Brand Ambassador. Not just because of the obvious benefits that tourism brings to an economy but also I am proud to be able to represent such an important country as Kenya.
"We all know about the astounding areas of natural beauty, the beaches and of course the wildlife but there is much more. Kenya has a history going back 100 million years and is considered by many to be the cradle of civilisation so I am humbled to be talking about the country. Of course the people are the wealth of any nation and it's no different with Kenya. It's people have excelled in the arts, sciences, political thought and sports just to name a few .
"Tourism does of course bring jobs to the local economy, vital for so many small and big entrepreneurs. It helps unleash ideas, creativity, talent and makes for worthwhile and productive lives. Tourism is vital on many levels and it is my hope that I can play a small part in helping remind the world about Kenya and on a bigger level wouldn't it be wonderful if Kenya could help inspire the world after this terrible pandemic we have all been through. Reminding us to be grateful for nature's beauty and enduring history of our wonderful planet," said Naomi.