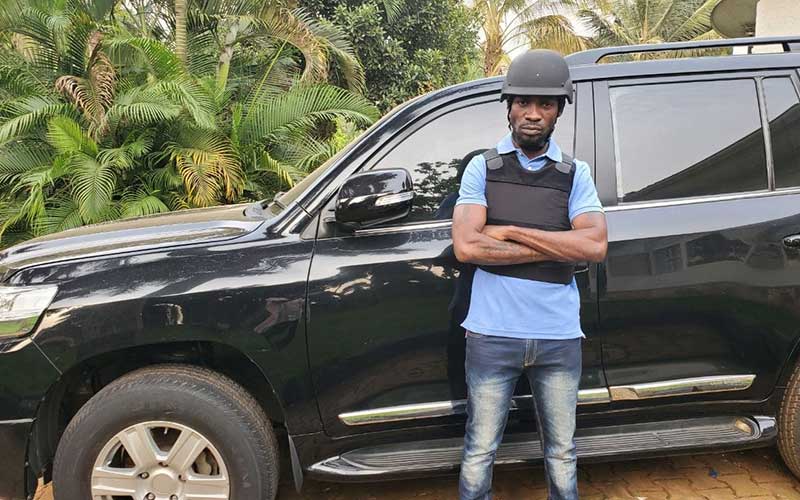 Ugandan singer turn politician Robert Kyagulanyi alias Bobi Wine has unveiled an armoured vehicle purchased by well-wishers. The father of four disclosed that the brand-new black Toyota SUV estimated to cost more than Sh15 Million was donated to him by his supporters after running a campaign to acquire the high-end bullet proof car.
"There is another group of comrades who kick-started a fundraising campaign for a bulletproof vehicle. These comrades informed me of their plan, but I thought it was an uphill task, given how expensive it is," he wrote.
Completely impressed by the act, Bobi revealed that the said supporters surpassed his expectations when they handed over the car to him.
READ ALSO: Bobi Wine accuses Ugandan police officers of shooting at his vehicle
"A few weeks ago, these comrades surprised me when they informed me that they had succeeded in raising enough money for the vehicle, and here it is. I can't thank you enough," he posted on social media.
The unveiling of the vehicle comes days after the politician's car was reportedly shot at by authorities, while journalists accompanying him to register a petition of human rights abuses at an office in Kampala were beaten up by the military just a week ago. Based reports, armed security forces were deployed along roads leading to Kololo in Uganda and blocked everyone except Bobi Wine and two other NUP officials who were allowed to proceed to UNHRC offices before a military officer ordered soldiers to beat up journalists. Bobi was accompanied by relatives of several missing persons who were allegedly abducted by security operatives during and after the just concluded elections.
The series of events come just a day after the politician instructed his lawyers to withdraw the presidential poll petition he filed at the Supreme Court challenging President Yoweri Museveni's victory in the January 14 General Election.
READ ALSO: No part of my body was spared -Bobi Wine narrates torture
"And, yes, we went to the Supreme Court to get two things: either to get justice or to get opportunity to expose the Judiciary. But as you all have been following even before we could expose the Judiciary, the Judiciary decided to expose itself. The world has been watching the bias[ed] tendencies.
"You are aware that since we petitioned the Supreme Court, the Chief Justice has met President Museveni three times. Now he is meeting a defendant three times even before they adjudicate this matter. We think that is wrong, we condemned and we continue to condemn it," Bobi's statement continued.
Related Topics