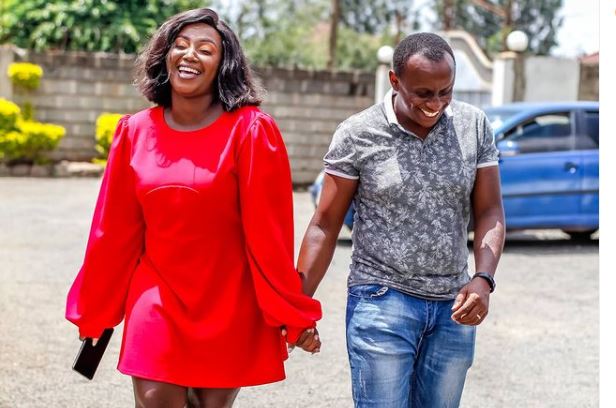 Kenyan actress Catherine Kamau alias Kate Actress's husband, Phillip Karanja, better known as Phil_director, recently turned a year older.
The social media sensation took to her Instagram to pen a heartfelt message to her better half in celebration. In her post, Kate described Phil as the smartest yet quietest man and the biggest blessing her family has had the privilege to have.
"Happy Birthday baba Njeri, if consistency, and discipline was a person. Thank you for being ever so patient and selfless. You are such a big blessing to us, your little family and to many other people you have crossed paths with. You are such a leader, yaani effortlessly so.
"The smartest, yet the quietest guy in the room. You ooze wisdom every damn time you speak. We love you so much Karanja, may God keep you and favor you all the days of your life. Happy birthday my person, Mr CEO, Baba k Squared, kamtu ka Tahidi High, etc. Wacha sasa nifulize my guy!" she wrote.
ALSO READ: My whole face was swollen, Kate Actress on worst heartbreak
On the other hand, Phil appreciated his loving wife for being his best friend and laugh partner stating that being in her company was the best gift he could ask for.
"Celebrated my Birthday with my bestest friend. Swipe left and see how funny I can be @kate_actress lets just agree that I've got jokes," he wrote.
For his birthday celebration, Phil and Kate had a lovely evening dinner at the luxurious Harvest restaurant before Phil proceeded to the trademark hotel for the night.
"I promise I was just passing by .... Bumped into the birthday boy ... The dinner at the @harvestrestaurant_ was absolutely delicious….
"Birthday Boy gets a whole penthouse to himself ....sijui nimfuate, we shall see @spotonvacations weeh. I am jealous @trademarkhotel HBD @phil_director," posted Kate.
ALSO READ: Catherine Kamau, hubby Philip Karanja expecting first child together
When it comes to celebrating her husband, the award-winning actress always has a way with words. On Phil's last birthday, Kate described him as her the greatest man ever. Not only is he her business partner, soulmate and father to her children, according to Kate, Phil is her sanity.   
"Happy birthday to the greatest man ever! My sanity, my business partner, my soulmate, the father of my children on this day I wish you the very best in the next phase of your life, may God protect and favor you, may he reward your hardwork, your kindness, selflessness, we love you so much and we are so blessed to have you in our lives . Happy birthday baba K squared," she wrote.
Although Kate and Phil are madly in love with each other, it was never so in the beginning. Opening up in a previous interview with comedian MC Jessy about their relationship, Kate admitted to not liking Phil in the front due to his uptight nature.  
"At first, I never liked Phil I felt he was too uptight. He kept telling me that I needed to think about my life. He used to bore me so much. I felt afadhali Abel as he was not as uptight as Phil. When I rebranded myself I would go to him to ask for advice that is when we started becoming more than friends. But no one believed us when we started dating. When I introduced my son to Phil he was very anxious but he was determined. The relationship was very straining but that's in the past. It's when we were almost getting married is when he called Phil dad. He had earned it," she said.