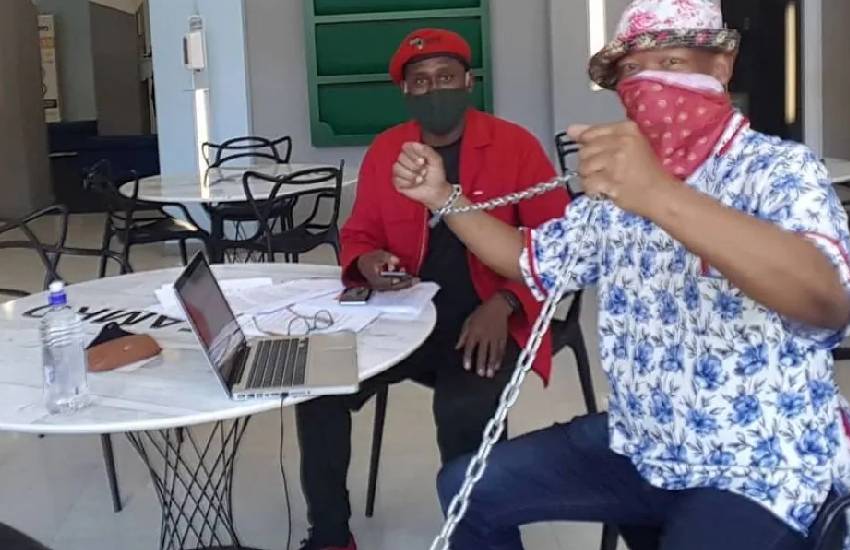 Kwaito legend Eugene Mthethwa on February 19 chained himself to a pole at the offices of the South African Music Rights Organization (SAMRO) in Braamfontein, Johannesburg demanding royalties he said are due to him from 1998 to 2021, reports SABC News.
According to the news outlet, the songbird famed for his work with legendary kwaito outfit Trompies started his sit-in around 1pm on Thursday and vowed not to vacate the organization's reception until his grievances were met, telling a security guard who attempted to eject him from the premises that he gave the keys to one of his children.
Read Also: Musicians demand justice as audit reveals theft of royalties
"SAMRO has kept me as a slave. It has kept me as their dog that eats crumbs that are falling from the master's table. I'm saying, I'm here to get all the answers that I deserve and also to get my money that I'm supposed to get because I've been waiting for too long. I've been talking decently for the past two years and even before that. If I cannot be paid my royalties then I have a problem. I'm going to sit here until they finish. If it takes them 6 months to sort out my undocumented work, I'm going to stay here for the next 6 months," lamented Mthethwa.
"They tell me that they will apply their prescription policy which says they will only pay royalties from 2014 to 2020. For me, it is an admission of guilt and I'm saying why should I be punished for their own administrative problems. Some of the songs they don't want to pay for were on higher rotation and I can't just forget about that.  I'm going to be here until they sign an undertaking in writing and explain what they are going to do."
SABC adds that Mthethwa was joined in the protest by recently sworn in Member of Parliament for the EFF, singer turned politician Ringo Madlingozi - who condemned what he said was the exploitation of artists in South Africa - reiterating that the Kwaito star's fight was crucial in highlighting issues faced by members in the asset management society which reportedly boasts over 15,000 members.
"The issue of royalties and Samro is crucial to us. There is this thing of undocumented songs. Sometimes they take people's songs and credit it to someone else. The whole thing needs to be disbanded and restarted. It is not working. It was designed to chow money of black artists," said the Eastern Cape bred legislator.
In a statement, SAMRO CEO Mark Rosin said Mthethwa's move was an unnecessary escalation; a slap in the face to processes that were in motion to procedurally address his concerns.
"It is impossible to deal with the issues Mthethwa has raised over the years where there is no willingness by Mr Mthethwa to resolve the matter other than his way. We have processes that apply to all members and in our ongoing quest for transparency, we will not circumvent these processes for an individual. The difficulty Mr Mthethwa has is that he fraudulently gained access to Samro funds, which even led to Samro expelling him as a member," said Rosin in part.
Read Also: We will come for our MCSK royalties when we retire- Sauti Sol
Adding: "In good faith, the present board reinstated his membership. However, we now sit with an outstanding amount due to us by Mr Mthethwa which his royalty earnings get off-set against the balance. It is not a desirable situation for either party but we have had to deal with the matter through the courts. Quite frankly, we are both disappointed and alarmed to see a member behaving in this manner especially where his conduct is not supported by facts. We hope Mr Mthethwa chooses rather to engage and to stop his protest."