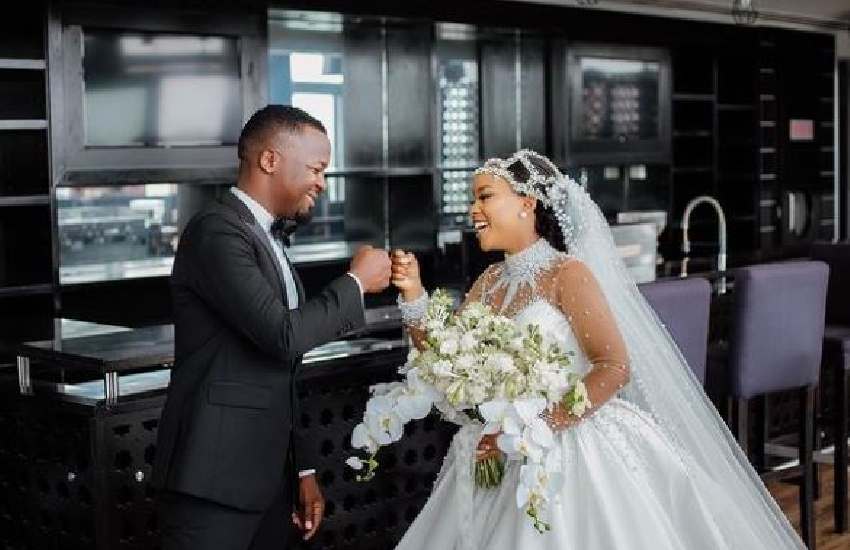 Tanzanian actress Elizabeth Michael, known mononymously as Lulu, married her millionaire media mogul fiancé Majizzo in a secret ceremony in Dar es Salaam on Tuesday, according to a local media report.
Lulu, who was convicted of involuntary manslaughter in 2017 for the 2012 death of actor Steven Kanumba, tied the knot with the entrepreneur in a small private ceremony at an undisclosed church, a little more than five years after their courtship began. "I thank God that we've wedded; the way I fashioned it," the E FM owner is quoted as saying. 
Read Also: Steven Kanumba beatings changed my life- Lulu
The businessman, who is Hamissa Mobetto's first baby daddy, proposed to Lulu two years ago at a party held to celebrate his three children. Lulu was at the time serving community service after her 2-year sentence for culpable homicide was commuted to six months.
Opening up about Lulu dating Majizzo, Mobetto in 2018 said she had no qualms about the relationship and was concentrating on co-parenting with the mogul. "I haven't met Lulu, yet. You know when you are released (from prison) you need some space hence why, I think, she isn't on social media yet. My daughter [Fantasy Majizzo] visits him every weekend, so I think she (Lulu) is fine; because when I did ask, I was told she is," the vixen told Ayo TV.
In an Instagram Live session with Tanzanian radio personality Soudy Brown in 2020, Lulu – on her part - said she has no contact with Mobetto and has no reason to worry about the women in Majizzo's life. "We don't talk because we have nothing to talk about. I am just playing my part as a fiancé to the father of their daughter, whenever she (Fantasy) comes over. But for her [Mobetto], we have no relationship… My fiancé does not have one baby mama. So, I am, first, not fearful because I will die of pressure; it will be stupid of me to overthink. Second, he is not that kind of man to be stolen by a baby mama. There are those who can, and he is not. At the end of the day, it is a personal decision, and I trust him."