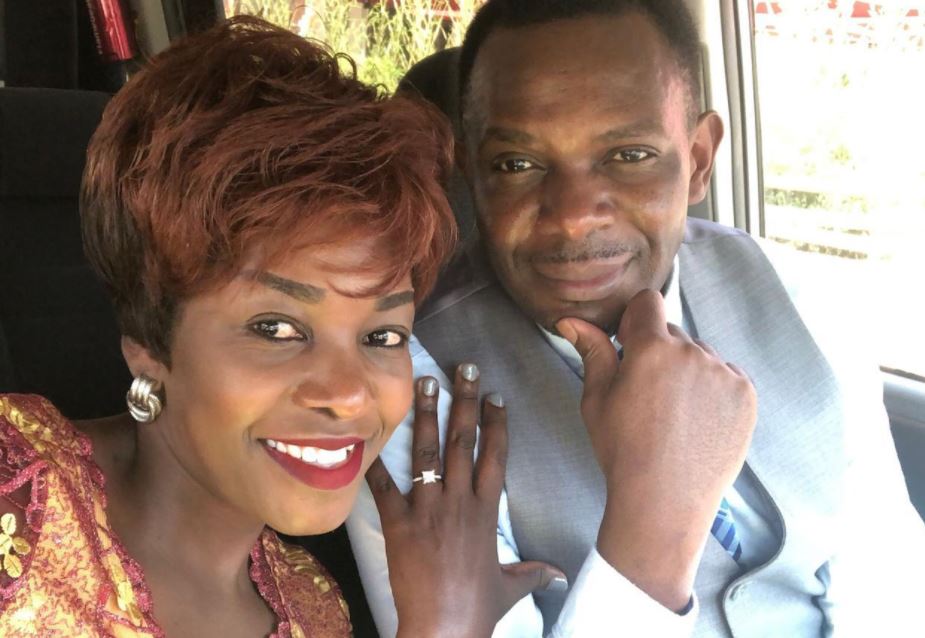 Popular Gospel singer Gloria Muliro has finally moved on, six years after divorcing her ex-husband, Pastor Eric Omba Miko. Unveiling her new man in a recent social media post, the gospel minister described him as the most important man in her life and thanked him for being the reason for her happiness.
"Happy Valentine's Day to my best friend, the most important man in my life, My heart's safe place, my reason for celebrating this day. I love you, Ev," she wrote.
Opening up on details of her relationship during a previous interview with The Standard, Gloria disclosed that her man, Evans Sabwami is an American citizen who enjoys ministering God's word. He is also an engineer and graphic designer and, just like Gloria, delights in music and philanthropy.
The Nani Kama Wewe singer revealed that they have been dating for a while now but made the conscious decision to keep their relationship private away from prying eyes, adding that they will soon tie the knot as they have already gone through with the traditional wedding.
ALSO READ: Gospel star Gloria Muliro is engaged to a pastor
 "We have kept this a private affair but I can talk about it now because I have the go-ahead from my soon to be husband. After confirming that we will have a lifelong journey together, we informed our families who gave us their blessings," she said.
Divorce
The renowned Gospel singer walked out of her marriage in 2015, citing infidelity and mistreatment. According to Gloria's ex-husband, Pastor Omba, he did everything in his power to make things right with Gloria but to no avail.
"Oooh! My goodness, coming to terms with the idea of remarrying was a fight, to decide to move on it was a fight. I followed her almost a year and a half, eve to her father's house, her sisters, her firends… trying to repair the relationship, but nothing," he said.
Omba disclosed that Gloria had already made up her mind to leave him and even filed a restraining order against him when he became too persistent despite his efforts.
ALSO READ: Singer Gloria Muliro- I moved on after divorcing money-loving husband
"She said her time was over. I did not want a divorce, I never signed the divorce papers, I completely refused because I don't believe in divorce. I used to cry like a small child, asking her to forgive me. I was even asking for forgiveness for things I didn't know I did. But Gloria would have none of it. She even obtained a restraining order," he continued.
Addressing the infidelity rumours, Omba maintained that he never once cheated on Gloria and was therefore taken aback by the accusation.
Gloria and Omba were sometimes back assumed to be back together, a claim she responded to saying, "I am moving on with my life and the past is just that. One of the things I appreciate and will never take for granted is peace. One time, I remember asking to understand how peace feels like. I was lost, but God found me and I have collected myself. The person you are looking at now is very different."