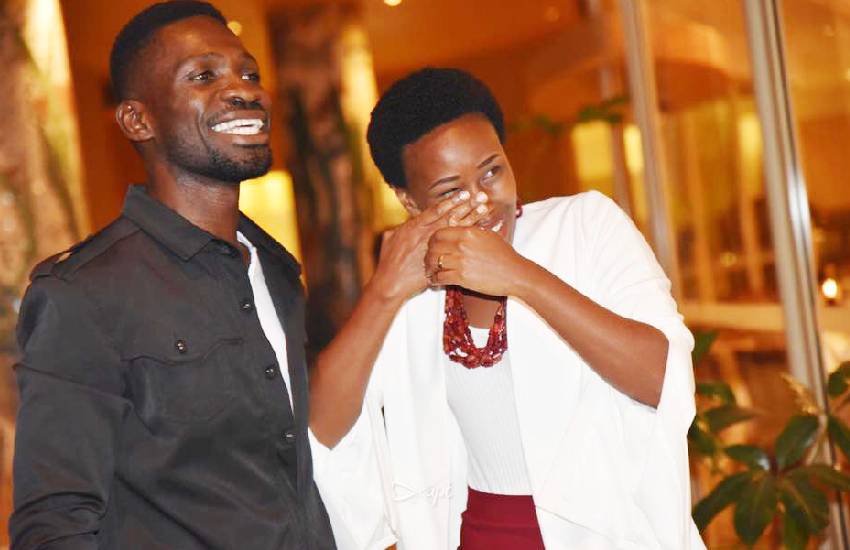 Ugandan politician Bobi Wine Friday turned 39. To celebrate the momentous occasion, his wife Barbara 'Barbie' Itungo took to social media and honoured the pop idol, who rattled President Yoweri Museveni re-election bid and won 34.83% of the vote in the country's January 14 elections, as an icon, who she wishes to see live to witness their nation's liberation.
Read Also: Bobi Wine celebrates wife Barbie in moving message
In a Facebook post seen by Standard Entertainment & Lifestyle, Barbie said she loves the National Unity Platform (NUP) leader and expressed how she finds comfort in God despite the challenges in his quest for change.
"Babe, first of all; I love you. Secondly, I am thankful to the almighty God that you made it out of the very challenging 38th year of your life with remarkable growth and great positive impact on our now very politically involved young generation. Making it to the 39th year for you is a manifestation of how mighty the hand of our never-failing God is. Happy birthday my love… Enjoy your New Year babe, and have yourself a very beautiful birthday. I wish you nothing more than a long meaningful life. May you live to see Uganda liberated from the authoritarian dictatorship. Happy birthday my love," she posted.
In a series of tweets on February 12, Bobi Wine, on his part, expressed gratitude for how far he's come and vowed to continue in his fight for freedom, liberty, and justice.
"Dear friends, so humbled by the outpouring of love on my birthday. This day in 1982, as my parents dealt with consequences of a stolen election & war raged on in many parts of Buganda, I was born. Growing up to this age is a long story. Am thankful that I've been able to get here. I dedicate the next phase of my life to continue fighting these injustices. Aluta continua. It's been ups and downs- a life full of lessons. As I approach the fourth floor, I get it that the best way to live, is to live with the truth in your heart. Deepest thanks to all who joined us in mass today as we prayed for our comrades in prison, those kidnapped or murdered," he tweeted. 
Read Also: Bobi Wine's wife spotted at airport, seeks refuge in USA?
The mass held at his home in Magere, Wakiso district was led by about 10 Catholic priests, reports Dispatch. It came hours after the European Union voted to recommend sanctions against Museveni's government over what it termed as the regime's repression of the opposition and civil society. "The resolution condemns the violence, continued harassment and systematic crackdown faced by political opposition leaders in Uganda, as well as the suppression of civil society. All those arrested and detained for participating in peaceful political assemblies or for exercising their right to freedom of expression and association must be released immediately and unconditionally and have their charges dropped," read the Thursday statement in part.