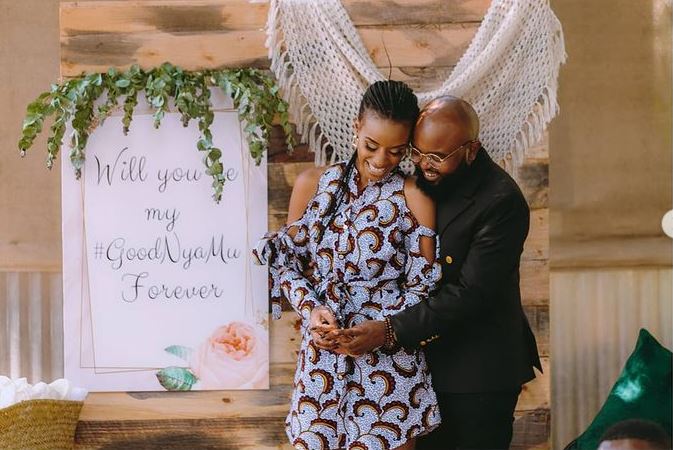 Renowned Gospel singer James Muhia alias Moji Short Babaa is officially off the market. The bubbly singer got on one knee and asked for his girlfriend, Nyawira Gachugi's hand in marriage in a colorful intimate engagement ceremony held on Saturday, February 6, 2021.
Moji Babaa shared pictures of his engagement on social media accompanied by a heartfelt message to his fiancee, and netizens could not keep calm.
"Life is all about different seasons and I happy to start this season with the most amazing person @nyawiragachugi my #GoodNyamu. May God lead the way," he wrote.
An elated Nyawira posted similar pictures on her Instagram thanking Moji Short Babaa for the good times and unconditional love he has shown her.
ALSO READ: Moji Short Babaa reveals why gospel group Kelele Takatifu have spilt
"Forever looks promising for sure. I knew 2021 would be a good year but goodness me...it's already began to surpass my wildest imagination. I am amazed at how loved I [email protected] let's make eternal memories filled with laughter, dance, song and love," wrote Nyawira.
The award winning gospel singer's proposal came as a surprise to many. He never posts pictures of his significant other on any social media platforms, making people believe he was single.
Protecting girlfriend from trolls
Addressing the issue, the former Kelele Takatifu group member explained that he intentionally refrained from posting pictures of his girlfriend to keep naysayers and trolls at bay.
"She is not known by the public and I also do not want her to be known. All people should know is that I am in a relationship. I am not keeping her away from the limelight because I am afraid she will be snatched from me.
"I am doing so because I am trying to protect her and myself. I have learnt from my friends that sometimes people close to you can be used as a target when things go wrong. True love waits and I am waiting," he said during a previous interview with Radio Jambo's Massawe Japanni.
ALSO READ: 10 popular artists who are also respected songwriters
Past relationship
Opening up on his previous relationships, Moji Short Babaa admitted that he had just come from a relationship that lasted three months when he actively started looking for something more stable with a Godly woman. Not just Godly, the Imani singer hoped his future girlfriend would be intellectual and fun-loving since he too loves having fun.
"I have been in two relationships but the first one lasted three months and we split. I am single and any single girl out there who loves Jesus has a chance. I mean you have to love Jesus kabisa. I mean my ideal woman has to be focused and she has to be fun, meeeeeen, I love fun meeeeeen. I also need her brain to be up there," he said.
Luckily for him, Nyawira came into his life, and it was not long before he knew she was the woman he was destined to be with.
"I will be marrying soon and I don't want people to know her for now," he said.