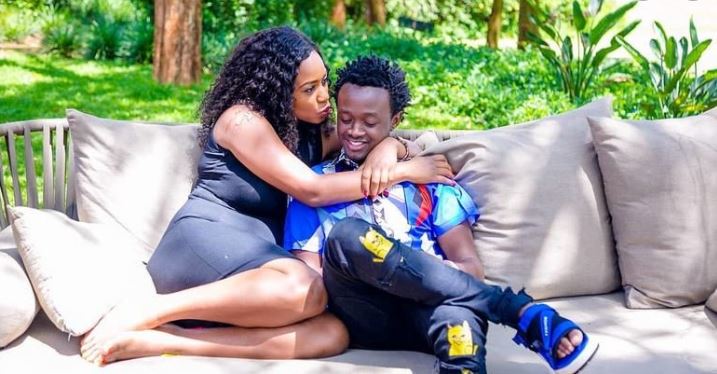 Singer and Eastlands Most Beloved (EMB) Records boss Kevin Bahati has revealed that he usually does not take offense when netizens refer to him as "Mtoto wa Diana." According to the singer, he grew up wishing he had someone to call a mother, and therefore, his wife Diana Marua is the closest type of love he has to that of his late mother.
Taking to social media, Bahati disclosed that one day while courting his wife, he revealed to her his desires of being loved by her just like his mother loved him.
"I Remember When I started Dating @Diana_marua I once told her Babe "I Wish you Can Love Me Like My Mother," He wrote in part.
The 'Machozi' hitmaker added that he yearned for a love like that of a mother as he narrated his past life growing up in a children's asylum, wishing he had someone to look up to as a mother.
ALSO READ: Bahati turns down Diana's request to have another baby
"This is Because I had grown up in a Children's home set up and as an Orphan, I always wished I had someone to Call Mum. Everyone no matter how old; still Yearns for some Mother's Love. And so these Days When "They" Call me Mtoto wa Diana I take No offense because This Girl here is Still the Closest Typa Love I have had to My Mama's #RIPmama," said Bahati.
Reacting to his post, his wife Diana added that she might not give the kind of love that matches up with that of his mother but promised to love him in the best way she can.
"Aaaaaaawwwww, my Baby. I know I cannot give you the same love that you yearned from your Mama but I'm here to give you the Love that God commands me to. Forever my Treasure @BahatiKenya" responded Diana Marua.
ALSO READ: Bahati and Diana's 'breakup' turns out to be publicity stunt for 'Mtaachana Tu' song
Bahati's seemingly acceptance of the said popular internet innuendo of being referred to as "Mtoto wa Diana" came just months after Rapper Khaligraph Jones was trolled for apparently dissing Bahati his hit song Hao featuring Masauti. In the said song, the rapper mentions the trolling that comes with being a celebrity and using Bahati as an example of the artists who have been victims of internet bullying.
"Kuwa celebrity ni garama juu wakishakujua ni lawama, Bahati akianza alikuwa mtoto wa mama sahii twitter amegeuziwa yeye ni mtoto wa Diana hakuna huruma siri ni kulenga tu," says the rapper in the song.
However, shortly after the song was out, Khaligraph clarified that he was echoing sentiments from social media users in the song, and it should go on record that he never dissed Bahati.
"I'm just echoing the sentiments of these people on twitter so Bahati manze usijali Khaligraph Jones hakuwa anakudiss," he said.