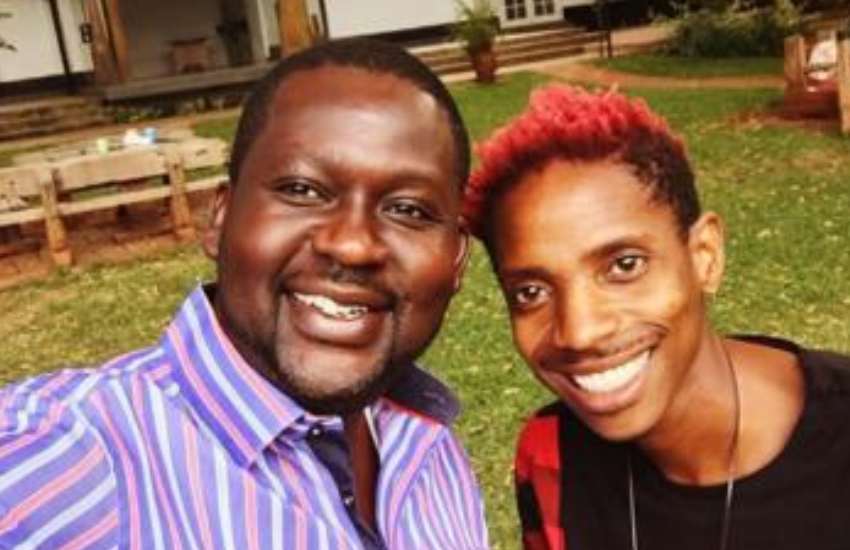 The President of Comedy Africa Eric Omondi has opened up about his relationship with Daniel 'Churchill' Ndambuki, who is Laugh Industry CEO, and said he helped shape his journey through the many networking and mentorship opportunities he had at Churchill Show.
Omondi, who is fresh from an electrifying event in Tanzania, said the show was a launching pad and defended Churchill from claims that the veteran comic and radio host was shortchanging talents.
Read Also: 'Wife Material' cost me sponsors, reveals Eric Omondi
"I'm saying this from experience; I have the moral authority, more than Churchill, to talk about this topic. It bothers me, and I think it's just nonsense of the highest order… All Churchill gives you is a platform… Churchill has never ever called someone to come for auditions. All of us went there, and were offered an opportunity to showcase our talents. That is because he has a show - Churchill Show, that is his house, and you are allowed to sell your talent," Omondi told Massawe Japanni.
Recalling the events leading up to the meeting in the interview, Omondi spoke about lending support to Churchill who was under fire from 27 roster members demanding he forks out cash. "I remember several comedians called for a meeting demanding to speak to Churchill. They requested me to be there. They were saying, "Churchill anatupita na gari, Eric anatupita na gari, lakini hii show ni sisi. There is no show without us – the show is us. We also want to drive those big cars and be paid big money," said the award-winning Daystar alumni.
He went on: "I asked Churchill in their presence if he ever paid me for the three seasons I was there… They never paid me a coin, I even didn't want the money, but by the time I was halfway the first season, I was making millions doing adverts. This is because I knew it was the number one show in the country and was very conscious of that… I used the platform, plus my hard work, to get where I am... I'm actually the one who is supposed to pay Churchill because he put me where I am today, not the other way round."
In October 2020 during the burial of Maurice 'Othuol Othuol' Omondi in Siaya County, Churchill told off critics blaming him for comedians' misfortunes saying his long-running NTV brainchild is specifically geared towards realising opportunities among the youth.
Read Also: Daniel 'Churchill' Ndambuki - I learnt to pretend that two pieces of ugali were enough
"Most of you have performed high school drama festival, primary schools to the national level and it ends up in State House, have you asked yourself what happens to those talents? That is how most of the dreams die. The reason why you see them say Churchill comedian when something bad happens is because it's the only platform that they get to be seen. Listen, I am not the government and I am not funded by the government," said Churchill. "Don't wake up every morning and you're telling them what you are eating, what you're wearing, you have a life. Stop calling people your family because the moment you stop cracking jokes, they stop being your family. Leave the bloggers, they earn money through your stories."