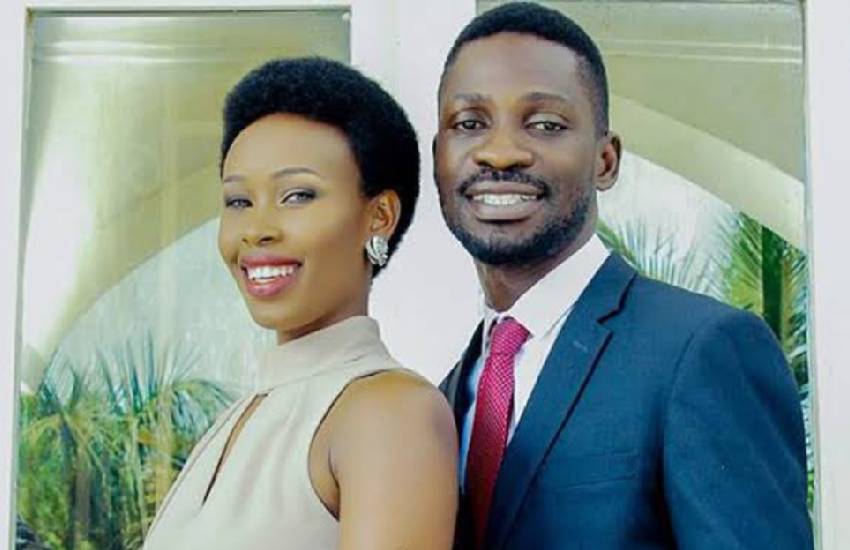 Bobi Wine's wife Barbara 'Barbie' Itungo has reportedly left Uganda for the US. Barbie jetted out as her husband laid the groundwork to Challenge January 14's presidential election results to be with their children, who exited days before the general elections, reports local media. 
Read Also: Bobi Wine celebrates wife Barbie in moving message
Photos of Barbie at Entebbe International Airport Tuesday circulated on social media eliciting sharp reactions from netizens who questioned the safety of Bobi Wine. Last month, the opposition leader, whose real name is Robert Kyagulanyi, claimed he had received credible reports of a plan to abduct his kids during the electioneering period. The pop star turned politician said his family had been living in fear for the past three years since he announced he would challenge President Yoweri Museveni in the 2021 polls.
"When I received information of pending physical attacks on me, my wife and kidnap of our children, friends in the diaspora reached out to us, offered to host them for a while! That does not mean that my wife or I are any safer by remaining around. But our effort is to ensure they don't kidnap one of these minors and try to use them to coerce us into subjugation!" He said in a statement.
Read Also: Bobi Wine - The untold story of the inimitable 'Ghetto President'
The singer-turned-politician, who has since rejected the results announced by Ugandan Electoral Commission, claimed that for 11 days heavily armed soldiers and police officers surrounding the property had prevented members of his household, including his wife, from leaving their compound, as well as denying access to visitors. "I was put under illegal detention in my own house because General Museveni did not win. He is staging a coup against the will of the people of Uganda."
Via Twitter, Bobi Wine also revealed that he and Barbie were trapped without food with an 18-month-old girl. She was later evacuated. "Day Six under house arrest and we're still stuck with an 18 months old baby who had paid a visit to her auntie (my wife) be4 we were raided and besieged. The dad has been denied access to her. We have run out of food and milk. No one is allowed to leave or come into our compound," he wrote at the time. 
Read Also: Bobi Wine's 18-month-old niece 'safely evacuated'
Troops were later withdrawn from him home following a successful petition at Uganda's High Court. "The judge ordered that the state and its agencies should immediately vacate his property and his right to personal liberty should immediately be reinstated," lawyer George Musisi told Reuters.