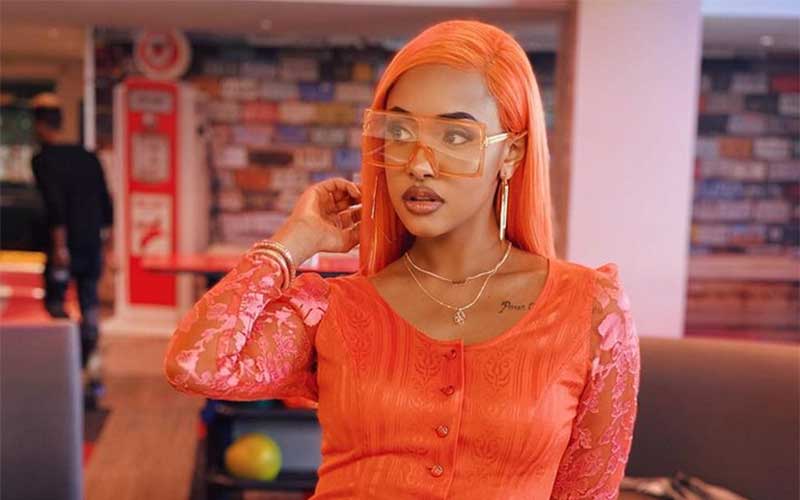 Tanasha Donna says she is single despite rumors going around of her possible reunion with Diamond Platnumz following a publicized break-up last year. Speaking minutes after landing in Nairobi from Tanzania, Tanasha maintained that she is just co-parenting with Diamond. The mother of one added that even while in Tanzania during the visit, she was slept at a hotel.
"I'm still single…Hatujarudiana," clarified Tanasha.
READ ALSO: Tanasha Donna reacts to viral video of Diamond snubbing her kiss
The rumors started when a video in which she appears to move her lips closer to the Diamond's went viral. Netizens were quick to conclude that Tanasha unsuccessfully tried to kiss Diamond who, from the alleged clip, appeared to have snubbed her. In her defense, Tanasha explained that he did not publicly snub her kiss because it wasn't even a kiss in the first place. She added that in the said video, she was just trying to whisper something to him but it was blown out of proportion.
"First of all, I am not a person to do public display of affection. If I wanna kiss someone, I'd kiss them behind doors," Tanasha said.
She explained that Diamond called her on stage unexpectedly and she was trying to ask him why he called her on stage without informing her prior.
"As a matter of fact, I didn't know that he was going to call me on stage. We had gone to the party and the next thing they were calling me on stage. So, when I went there, I was trying to ask him why he didn't tell me that I would be performing" she said.
She said at that time, Diamond was looking back, trying to inform the DJ to play their hit song Gere.
READ ALSO: Tanasha, Diamond dance sensually as they perform in Tanzania
"If you look at the video well, you will see that the mouth was moving. At the same time, he (Diamond) was looking back to yell to the DJ to play Gere," she explained.
According to her, everything happened so fast and before she could get a grip of it, it was already out in the public domain.
"Everything happened so fast! Then obviously, the media went and did what they did. Recreated the whole story," she narrated.
She, however, said her conscience is clear because she knows the truth and she does not need to justify herself to anyone. She said smart people who watch the video will understand she was not after a kiss.