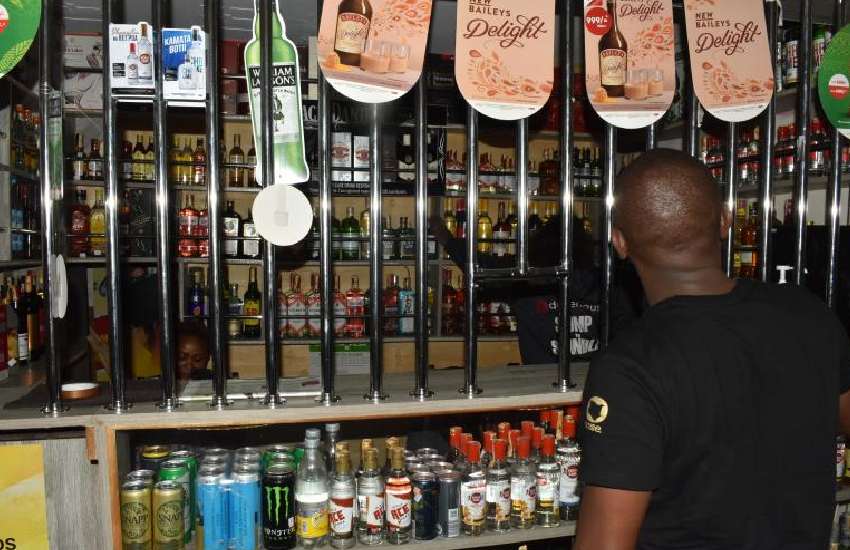 A new taste for gin has swept across Kenya. And in their war rooms, alcohol dealers are already high from the profits promised by the revolution. "Gin is exploding across East Africa," said Andrew Cowan, outgoing chief executive of East African Breweries Ltd (EABL).
The brewer's net sales for its spirits business have grown 10 per cent in the past six months, according to the company's latest financial disclosures, lifted by demand for gin. With its beer business hurting, EABL is now set to direct resources to potent drinks where consumer behaviour has shifted. "There are some emerging segments that we are interested in driving really hard," Mr Cowan said at a virtual briefing on Friday, referring to the preference for gin across the region.
Read Also: Long wait - Dashed hopes for revellers as bars remain closed
Cowan reveals that EABL's current strategy is to accelerate the growth of its spirits business at the expense of the beer segment. He argues their beer business across East Africa is more entrenched. "The best way I can characterise our strategy is to grow beer fast and grow spirits faster and the reason is that the beer business is more developed in East Africa than the spirits part of our portfolio," he said.
The coronavirus pandemic has badly hit the brewer's bottom-line wiping out nearly half its net profits in the first six months of the year to December 31, 2020. Net sales for EABL, which is controlled by British alcohol giant Diageo, fell by three per cent. Bar closures and restrictions on movement to curb the spread of the virus have greatly reduced on-trade sales. This will see EABL increase marketing and innovation for its spirits business.
EABL recently introduced a new gin to its Chrome brand, which it said was targeting millennials. The company's gin portfolio also has Gilbeys, Gordons and Tanqueray, all brands aiming for the low to high-end market. Cowan also said they would continue to heavily push spirits such as Kenya Cane, Uganda's Waragi and popular international brands.
He, however, declined to break down how much the spirits business contributes to EABL's overall business. "We wouldn't disclose our share of business by channel. We see that as competitively sensitive," he said. With reduced operating hours for bars, beer cans are now more popular than the bottle. Demand for can beer has doubled, said Cowan, noting that the portable nature of spirits had seen the segment shoot up.
Incoming Chief Executive Jane Karuku also declined to say what spirits brand was the best seller, but signalled more investment into gin.  "Different consumers choose different drinks and, therefore, sometimes there is no brand that is moving faster than the other," she said. "We continuously listen to the consumer. We are always researching what the consumer wants and their motivations."
Read Also: 10 ways Kenyan daredevils are beating the system to have a drink
One of their top-selling whiskies is the legendary Johnnie Walker brand. Cowan noted that their investments in Johnnie Walker were at "the highest they've ever been." "As consumers across East Africa continue to get wealthy we'll continue to 'premiumise' our business," he said of the expensive whiskies in its portfolio. Other whisky brands in its stable include Singleton, J&B and VAT 69. Vodka brands include Smirnoff, Ciroc and the low-end Chrome.
What about the iconic Tusker beer? Has it lost popularity to Whitecap or other foreign beers? Weekend Business asked Ms Karuku. "It's a way of life. Kenya is Tusker and it continues to be a very significant brand in our portfolio," she said. She said there are other "jewels" in the company's portfolio that are doing pretty well. These include Guinness, its variant Guinness Smooth and WhiteCap.
WhiteCap is emerging as a top money-making lager for the brewer. Before its bottle redesign, the "connoisseur's beer" with no added sugar, has since become popular among trendy youth. "It has now become a key brand for the youth, not necessarily what we used to see. It's no longer considered a brand for older people," said Karuku.
Other beers in EABL's stable include Pilsner, Balozi, Allsops and the Tusker Malt, Lite and Cider. There's also Serengeti for its Tanzania market and Bell for the Ugandan market. The Covid-19 restrictions also hit its low-end Senator Keg business, with its Sh4 billion Kisumu keg plant shut at some point.  The fall in beer sales was largely driven by Senator Keg.
Kenya was the worst hit market with beer sales falling 10 per cent owing to closure of bars. In the other two markets it operates in, Uganda and Tanzania, net sales grew 13 and 17 per cent respectively. Karuku said business at the Kisumu plant is picking up. "We are back to business, not to the levels we expect but we are much better and are running back to capacity," she said.
The coronavirus pandemic wiped out almost half of EABL's profits in the first six months of the year. The pandemic accelerated its e-commerce strategy through partnerships with online aggregators such as Glovo and also riders to deliver drinks as more people kept away from traditional booze joints. "We've pointed our distributors to this new source of business. E-commerce is around 10 times bigger than it was pre-Covid," said Cowan.
He said off-trade has become a material percentage of EABL business. This has seen its can beer business double compared to before the pandemic. Off-trade refers to retail outlets such as supermarkets, and liquor and wine and spirits stores.
EABL's profit after tax fell by 47 per cent to Sh3.79 billion for the half-year ending December 31, 2020, from Sh7.2 billion in the same period in 2019. This was primarily driven by a one-off tax provision. Cowan declined to comment on the specifics of the tax provision. "We take a judgement on provision every single half-year like any responsible company does across the region. What our investors would expect is not to disclose specifics where those provisions were made," he said. "Some of these tax provisions continue to be in negotiation."
EABL Chief Financial Officer Risper Ohaga said they normally review legal cases on any contingency liabilities and take provisions where appropriate. "We do have a number of ongoing cases of that nature and during the period have closed some of this and reviewed our positioning as far as those are concerned," she said.
Read Also: New normal - Nairobi parties starting at 9 am to beat curfew
On the forex side, Ms Ohaga said the volatility of the shilling had made a Sh900 million dent in their business. The shilling has been weakening against the US dollar, exchanging at an average of 110 in December. "It's something we watch very closely and are always quite ready from a productivity perspective how we mitigate that," Ohaga said. "It's definitely one of the headwinds that we are looking at and seeing how we mitigate."
Cowan sees the firm bouncing back, describing restrictions in East Africa as "time-bound" ahead of rollout of coronavirus vaccines and falling infection cases. "The drivers of growth in quarter two are very much embedded in our strategy ... nothing has changed, we are still going to be growing double-digit by 2025 as we emerge from the corona crisis," he said.
He said the drivers would be the strong portfolio of flagship beers including Tusker in Kenya, Serengeti in Tanzania and Bell in Uganda supported by the Guinness brand, alongside the focus on spirits. "We are still going to continue to grow our portfolio through mainstream spirits," Cowan said.
In an initiative to support bars, the brewer recently launched an initiative dubbed "Raising the Bar", putting in Sh500 million to support the badly-hit industry across the region. Karuku said they had received about 400 applications from pubs and restaurants. "We've decided to extend until the end of February. Meanwhile, there could be some relaxation in trading time to enable bars really come back," she said.