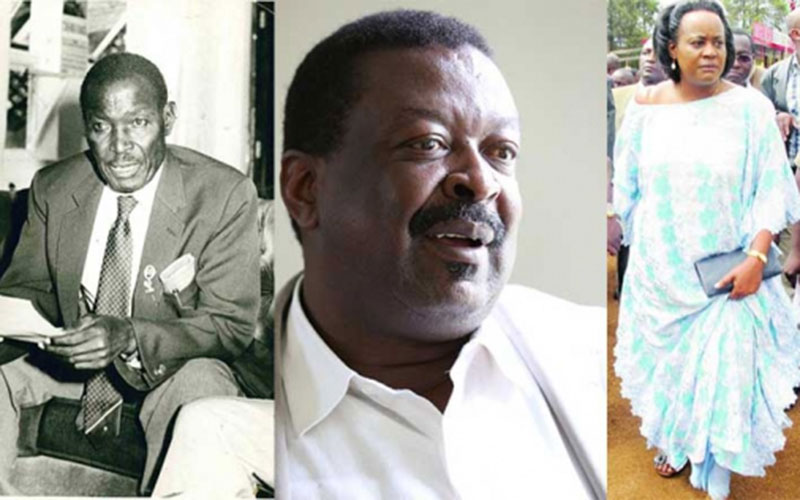 Life is full of happy coincidences. Take the Mudavadis. Their patriarch, Moses Mudavadi, was the District Education Officer in the Rift Valley, where he gassed his battered Land Rover to collect fees, pay teachers and inspect schools dressed in khaki shorts.
That was how he met Daniel arap Moi, a teetotaler teacher chosen to replace the ever drunk Dr John ole Tameno as the representative of the Rift Valley in the colonial Legislative Council (Legco). But there was a problem. What if Moi left his teaching job, but later found politics a tough call?
Well, Moses Mudavadi assured the now retired president that his job would be intact. Mzee Moi bought a Land Rover similar to Mudavadi's and gassed to Nairobi in 1952. The ever tipsy Dr Tameno — the vet who treated Jomo Kenyatta's cows when they suffered from anaplasmosis — paved way for Moi's 40-plus years in politics.
READ ALSO: Martha Karua speaks on politics, aging and being a grandmother
Moses Substone Mudamba Mudavadi, EGH: The alumnus of Maseno School, Alliance, and Leeds and Harvard universities, was a teacher who rose to District Education Officer in Western Kenya and the Rift Valley, and on to being Nairobi's first Provincial Education Officer.
The Kalenjin-speaking future MP for Sabatia was married to Hannah Mudavadi, but fished a second, Rosebelia Mudavadi, from the Rift and often referred to Mzee Moi as his umuko (Maragoli for in-law). He lost the Vihiga seat to Peter Kibisu in the 1969 and the 1974 elections, filing complicated petitions that came to grief until Kibisu was slapped with a 15-month sentence for assault. Mudavadi won the ensuing by-election.
Vihiga was hived off to create Sabatia. The Minister for Basic Education, Water, Culture and Social Services also became the powerful Minister for Local Government and Physical Planning and Secretary General of Kanu.
'King Mululu,' as he was nicknamed, was installed as a Maragoli elder at Mbale Market in 1979, the first such honour since ex-senior chief Paul Agoi in 1940. He died in the ICU of Nairobi Hospital in 1989. The 66-year-old was father to 13 children, the most notable being his son, Musalia.
READ ALSO: Beth Mugo and Nicholas' love story
Wycliffe Musalia Mudavadi: Kenya's shortest-serving Vice President for two months in 2002. The alumnus of Nairobi School and University of Nairobi (Land Economics Class of '84) inherited his father's Sabatia Constituency at 29 while working for Tysons Ltd.
President Moi then appointed him Minister for Supplies and Marketing and later Finance and Local Government. But the presidential ambitions of the one-time Deputy Prime Minister came to monumental grief in the 2013 elections when 'Weak-Leaf,' according to haters, fell to political racquets. The man nicknamed 'Phantom' for his speed when he played rugby for Mean Machine, has interests in insurance, investment banking and real estate.
Tessie Shangatta Mudavadi: They met after a school fundraiser in a board member's house. One lunch later, and the rest is 20 years and three children - Mike, Maryanne and Moses - in between cancer awareness campaign and co-running the Mudavadi Memorial Foundation Trust Fund.