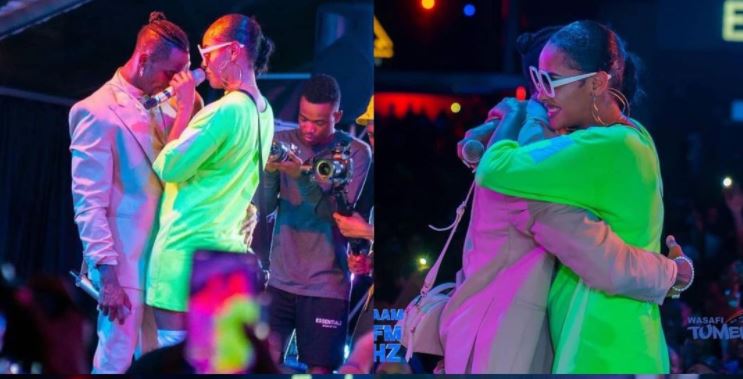 In the past few days, Kenyan singer Tanasha Donna was the town's talk after a video of Bongo superstar Diamond Platnumz allegedly subbing her kiss in Tanzania went viral. In the video, Diamond is seen cheering on Tanasha as she joined the stage as fans chanted, asking the singers to perform their hit song, Gere. Tanasha later puts her hand on Diamond's back, and when he turned, the mother of one is seen leaning towards him as if reaching for a kiss. The video went viral, with people giving different opinions on what really transpired.  
On Wednesday, an Instagram user identified as tilesmombasa, and seemingly a huge fan of Tanasha Donna, gave a different narrative on what took place during the performance. The fan stated that Tanasha was not reaching out for a kiss, but instead, she wanted to whisper something to Diamond and even asked Kenyans to stop hating on the singer.
ALSO READ: Zari Hassan, Hamisa's response to fans dragging them into Tanasha, Diamond's alleged reunion
"Eti alikunyima kiss, Acheni kukuza mambo wakati tunamacho na tunaona. Sisi wakenya mbona tunachukiana hivi aki? U can see clearly kwamba hakutaka kumkiss alitaka kumwambia kitu, na Mondi kageuka haraka hakumuona. Neva mind them, wanakuonea wivu tu," said the fan.
In response, Tanasha said, "@tilesmombasa_ It is what it is. Let them have fun recreating the whole scenario." However, she did not confirm nor deny if she was indeed reaching out for a kiss.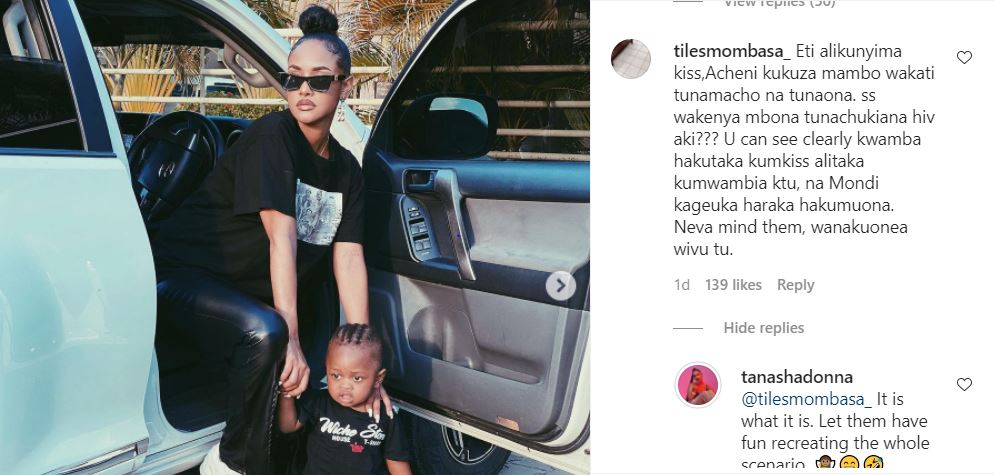 Tanasha travelled to Tanzania on January 23, and while at the airport, she told the press she was in the country to shoot a music video with the 'African Princess' Nandy. Tanasha said she thought of bringing her son, Naseeb Junior, to see his dad, killing two birds with one stone. However, during the performance of their hit song Gere, fans were left wondering whether the two singers were planning to get back together owing to their undeniable chemistry on stage.
ALSO READ: Tanasha, Diamond dance sensually as they perform in Tanzania
Tanasha and Diamond called it quits in 2020 after close to a year of dating. During a previous interview with Radio Maisha's Billy and Mbaruk, Tanasha swore that she wouldn't take her son to see his father as she had a lot of work to take care of and therefore not in a position to travel.
"About taking our son to see him in Tanzania, no way. The baby can go with his nanny, but as for me, I will remain here in Kenya because I still have so much work to do," she told Radio Maisha's Billy and Mbaruk.
What are your thoughts on the video?