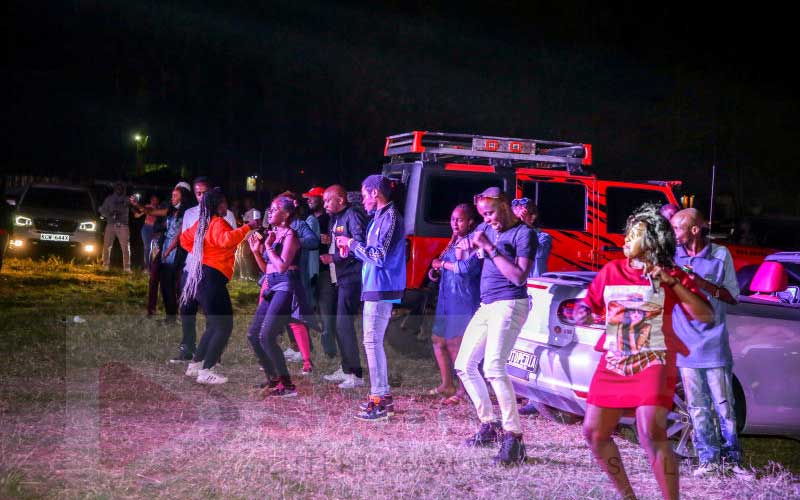 [email protected]
The nationwide night curfew that has been in place for almost a year has changed the entertainment scene greatly. It is not just about entertainers and entertainment spots failing to meet their financial targets due to the compromising business measures that require business joints to close by 9pm. The new norm has to do with party-lovers having to adjust their programmes to make the best of the social events and club shows that also come with the challenge of social distancing.
Park and Chill, a drive-in social outdoor event that was started by a number of deejays led by Pierra Makena last September, has become the most popular event in town that takes place every fortnight. The event hosted at Carnivore Grounds features music and performances and is transforming how people view weekend entertainment parties.
READ ALSO: Why you must resist urge to merry minutes to curfew
"I started Park and Chill as an event for friends and got support from industry players like MoSound as well as Mwananchi Credit. Carnivore offered me the grounds and before I knew it, revellers were supporting the new event. We usually kick off our editions at around 10am and I can tell you that by midday, the place is always busy with action," said DJ Pierra, who is also a singer, actor, and TV personality.
According to DJ Pierra, party goers have adapted to the new normal and unlike the past where entertainment gigs used to go on until late at night, by 8pm everyone is usually on their way home.
"Party lovers have pushed their weekend enjoyment time backwards in a way that you'd say 8pm, the time guys used to check into clubs and concerts is like their new 3am when events used to close. For deejays playing in clubs, this is a little bit weird as our moral culture does not allow us to play some of that music set made for say late-night hours during the day, something we are now forced to do," Pierra notes.
Peter Mathu, a 34-year-old party lover admits that before the Covid-19 pandemic struck, he used to party all weekend long as he socialised with friends in clubs until the wee hours of the morning. Now, he says, he is forced to hit the clubs as early as 2pm if he has to get his fill before the scheduled 9pm closing hours. An accountant with a Nairobi PR firm, Peter says together with his friends, he has already identified clubs that start weekend action early as all he looks forward to is having an experience that will make him feel like he has partied the day 'all night long'.
READ ALSO: Curfew: 10 ways Kenyan daredevils are beating the system
"The truth is that if you visit these clubs as early as 1pm, you will find that they are already full to capacity. When the music comes down you discover that it is only 8pm. By then, you are ready to go home," he says.
Some club owners offer subsidised prices of selected alcohol brands to encourage people to patronise their establishments early. They have also invented a way of making the clients feel at home by giving free meat after one purchases drinks. Speaking to DJ MoHawk, one gets the perspective that Covid-19 has not really killed the 'night' life as revellers have only adjusted to the new outing hours. He says his Monday show that has been featuring guest artistes like H_Art the Band and the Reggae Bashment crew have become popular with uptown revellers looking for venues to have their private parties.
"Our Monday events kick off at 2pm and by 5pm you can hardly get a place to sit. The truth is that the curfew hours have not slowed Nairobians from partying," says DJ MoHawk.
Even though for some the new closing hours have resulted in low sales, it is the opposite for some club owners who note that due to the early opening hours, sales have somehow gone up drastically in the last few months. But the now popular daytime club events are not working positively for all. According to sources, they are creating opportunities for underage school-going pupils to indulge knowing they can get back home early before their parents suspect that they have been to a club.
Related Topics