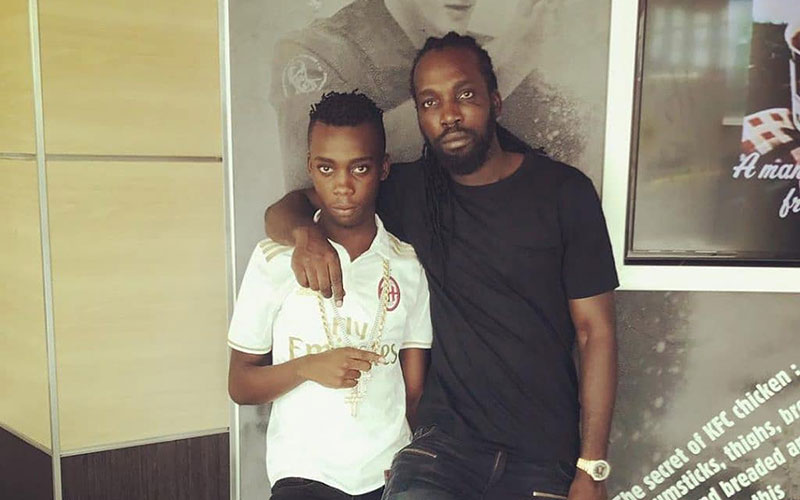 Dancehall star Mavado has sent a message to his incarcerated son in a new song dubbed Not Perfect. While admitting of his shortcomings and run-ins with law enforcement officers, the 'Gully God' prophesizes his son who's on trial for murder will be released soon. 
"Just know very soon dat you're coming home," sings Mavado. 
READ ALSO: Lupita reveals her love for Mavado
Mavado's son Dante Brooks has been in detention since July 2018 facing murder charges alongside three other men. They are facing trial for the gruesome murder of Lorenzo Thomas alias 'Israel' or 'Trulups'.
Gruesome murder, attempt on Mavado's life
Police reports on the incident indicate the alleged crime was committed on June 5, 2018, when a group of armed men ambushed the victim at home. Wielding machetes and guns, they broke down Israel's door before spraying him with bullets. It was later revealed that a request was made for the victim's head and Andre Hines, one of the co-accused tried chopping it off. 
Following the incident that occurred in Mavado's Cassava Piece neighbourhood, the singer acquired a few enemies within the community and three days later, an attempt was allegedly made on his life. He fled to the US, with critics bashing him for being a coward and abandoning his son. 
Dantay, who's now 19 was just 17 at the time when he was charged with arson, shooting with intent, conspiracy to murder and illegal possession of a firearm and ammunition.
Vybz Kartel trolling
Dantay was seemingly dragged into the long-running feud between his dad Mavado (Gully) and Vybz Kartel (Gaza) when the latter shared a photo of his son Likkle Adi and Brooks when they were younger. The April 25, 2020 post led many to Kartel was drawing comparisons between Likkle Adi and Dantay's fortunes- one's facing murder charges while the other boasts of several song releases. Kartel didn't leave much context in his caption, writing, "History Pic! Busoff n Laugh Dante," but the picture was worth thousands of words. 
READ ALSO: Vybz Kartel's 16-year-old son Likkle Addi expecting child
Mavado responds
In response, Mavado sent a strongly- worded message to the 'World Boss' urging him to leave his son out the beef between Kartel and MVP, an alliance between Mavado, Jahmiel and Alkaline.
READ ALSO: Vybz Kartel asks Kayole's Gaza gang to worship God, not him
"Just leave my son name out your p**** mouth and always remember 10 years in jail don't make you bad. I have friends in jail house so we will never try style no youth from jail but will style you any time because you a p**** and I don't really have the time to chat chat that's not my style and the world knows it by now you is a Dancehall clown maybe you will be a man ine day because your little fans don't know you is a b**** @vybzkartel", he wrote.