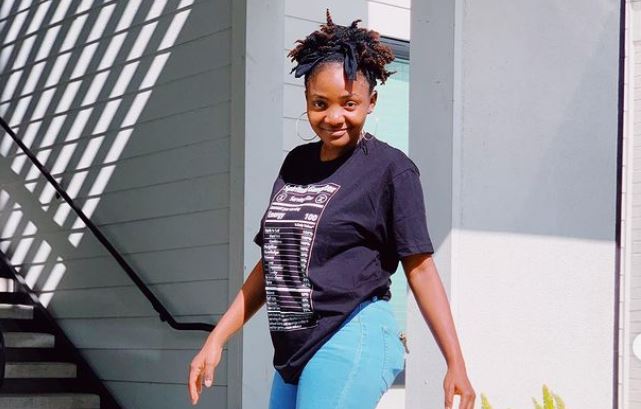 Nigerian songwriter, Simsola Kosoko better known as Simi, has described her husband, Adekunle Gold, as a very talented and favorite writer. 
Talking about her latest album in a recent interview, Simi bragged about her husband's writing skills and applauded him for how he has evolved as an artist.
"He's so talented. He's one of, you know, my favorite writers as well. And, one of my favorite things about him is how he has evolved as an artist and as a writer. And, you know, that energy kind of bounces off of me as well, you know. It's so easy. Like, if I write something, I'm like, "Oh, babe. What do you think about this?" You know, he does the same thing, and that really helps us to grow as artists," she revealed.
ALSO READ: Simi celebrates husband on anniversary in sweet post
Divulging further into details about their relationship, Simi added that the two of them are a support system for each other. She noted that her husband, who also doubles up as a highlife singer, songwriter, and graphic designer, is very supportive, and she usually seeks his opinion on a lot of things.
"Usually, I think that with a lot of artists, they end up having to explain why they're doing certain things. Maybe why you have to go to a show that's running late. With us, we get it. So, we, you know, we have already skipped all of that. Now we, you know, we're a great support system for each other. And that's definitely very helpful, um, in this business that we're in, 'cause it can get crazy." She added.
Commenting on her musical career, the 32-year-old mother of one acknowledged that she had grown profoundly over the years, and she keeps on striving to better herself. She revealed that even though her sound in music has somewhat changed, there have remained constant elements.
ALSO READ: Singer Simi opens up about pregnancy, motherhood
"I would say that my sound has evolved - it hasn't changed completely. I like to keep in bits of my Afropop, Afrosoul sounds, and just certain inflections I use, um, so people can always identify that it's me singing. I think it's important to always keep your signature, so that your fans don't get lost along the way. But I definitely know, um, know that my sound has also evolved. Like, this EP, Restless II, this is me experimenting with lots of R&B, which I haven't done before. So, as I evolve, I'm still original. That's the intent," she affirmed.
The Nigerian singer, songwriter, and actress started her career as a gospel singer, releasing her debut studio album in 2008, titled Ogaju. She gained prominence in 2014 after releasing Tiff, a song that was nominated for Best Alternative Song at The Headies in 2015.