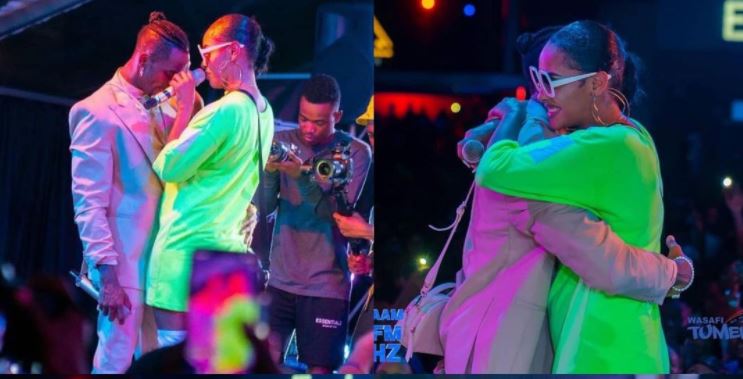 Social media was over the weekend set ablaze by news of Bongo Flava star Diamond Platnumz's purported reunion with Kenyan ex-girlfriend Tanasha Donna after the couple's steamy performance left netizens and onlookers lifting their jaws off the floor.  
Within no time, news had already reached Diamond's other baby mamas with nosy social media users curious about the ladies' reactions. Conveying the gossip to South African-based Ugandan socialite Zari Hassan, a fan informed the mother of five that Tanasha took her child to see his father just like she did a while back. The fan further asked Zari how she felt following Tanasha and Diamond's reunion. 
"Zari, Tanasha has also brought her child. How do you feel wherever you are?" posed the fan.
Responding to the question, Zari sarcastically thanked the fan for ensuring the gossip reached her. Zari also asked whether they wanted her to hang herself now that she was aware of Tanasha's visit to Tanzania.
ALSO READ: Tanasha Donna, Naseeb Jr reunite with Diamond in Tanzania
"Asante kwa umbea, wacha nijinyonge…" she said.
Displeased by the fan's intention to stir up spite between her and her baby daddy, Zari advised the user to mind their own business stating that Diamond had other children apart from hers.
"Learn to mind your business, the man has other children, Smh!" wrote Zari.
Rushing to Hamisa's page to convey the same message, a fan by the name Amina.Moha5437 asked the mother of two when she would take her son Dylan to visit his father.  
"Hamisa when will you take Dylan to his father," asked @Amina.Moha5437
The Tanzania businesswoman responded, saying, "Ukoo umejaa Baby."
However, if it were up to Tanasha, all of Naseeb's siblings would come together, get to know each other, and even create a relationship with their mothers.
ALSO READ: Tanasha, Diamond dance sensually as they perform in Tanzania
"When the time comes Insha Allah I will reach out to her. When we are both ready and the time is right. There is no need to be enemies of each other. I have moved on but I do respect the father of my child and his baby mama. I do not want my son to ask me why I stopped him from meeting his siblings all based on my ego. His needs come first and that is what being a good mother is all about," said Tanasha in a previous interview.
Visit to Tanzania
Addressing her son's visit to Tanzania in a previous interview with Radio Maisha's Billy and Mbaruk, Tanasha had stated that Naseeb Junior would travel to see his father with his nanny as she had a lot of work to take care of and therefore not in a position to travel.
"About taking our son to see him in Tanzania, no way. The baby can go with his nanny but as for me I will remain here in Kenya because I still have so much work to do," she told Radio Maisha's Billy and Mbaruk.
Speaking during a press conference a few days ago, Tanasha explained that she was in the country to shoot a music video with Tanzanian songbird Nandy. Tanasha said she thought of bringing her son along to see his dad, killing two birds with one stone.
However, during the performance of their hit song Gere, fans were left wondering whether Tanasha and Diamond were planning to get back together owing to their undeniable stage chemistry.