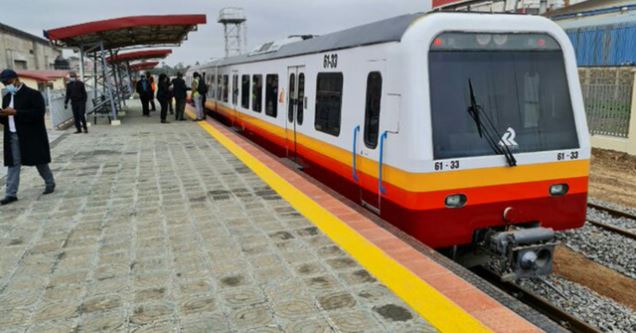 The Nairobi Commuter Rail has arguably changed the way city residents commute. The project is a good example of how an efficient railway network can ease traffic jams by reducing the over-reliance on road transport. A trip from the Donholm stage to the CBD via road takes 25- 50 minutes or even more depending on the time of day- the train takes 15 minutes. It's also devoid of the chaos often witnessed on our roads. Here's a breakdown of using the Nairobi Commuter Rail vis a vi road transport.
Roomy 
The train has big windows allowing in lots of light, giving the carriages a roomy feel. If you feel claustrophobic in a matatu, then this might be the perfect solution for you. The windows offer sweeping views of the Nairobi landscape, with the train route offering less- seen views of the capital. The seats are also comfortable, and the legroom is decent.
Fast, set rate
As aforementioned, the train will get you to and fro town in a shorter time and with less hassle. The set fare ensures you don't have to deal with matatu conductors who often hike fares at the sight of rain (Rongai) or charge more than the amount announced when boarding. 
ALSO READ: Kenyans not amused with Nairobi Commuter Train Sh100 fare
Smooth ride, air conditioning
As you'd expect, the journey is smoother than road transport. The air conditioning system ensures a relaxed ride even under the noon Nairobi sun.
Looks
Used to the ancient jalopies introduced decades ago, the sight of a modern-looking train makes many Nairobians stop and stare with amusement and surprise. Months after the introduction, the train is still breaking necks.  
Loud engines, vibrations
The diesel engines are particularly loud even when stationary. The loud engines cause constant vibrations inside the carriages but pale to the loud music in some nganyas.
ALSO READ: KeNHA reopens Airport South Road six years after closure
Handlebar
Should you have the unfortunate luck of boarding the train when full and having to stand, you won't have a place to hold onto. Passengers often resort to leaning on the walls for support or holding onto seats.
Less trips
The Nairobi commuter Rail makes three trips- in the morning, noon and evening. This means that you have to resort to road transport in between.