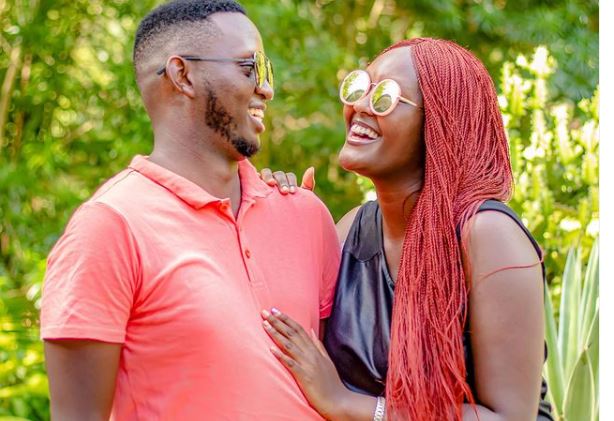 Celebrated Kenyan thespian Martin Githinji, better known as Daddie Marto, and his wife, Christine Kokueendera, are pregnant with their second child.
Sharing the exciting news with their fans during a Question and Answer session on Instagram, Daddie Marto explained that because of the nature of their job and the health effects that come with pregnancy, they decided to buy some time until they felt comfortable.
"Yeap! I can't believe we are back here again already. Most people share such news after the first trimester; we came out because of the nature of our job and how pregnancy affects her badly," he revealed.
Keeping in mind the highs and lows of pregnancies, Daddie Marto hopes that their second pregnancy journey will be much easier than their first one.
"We hope it will be different this time. Despite all, she understands that the job must be done. That is why I really love and respect (my wife) despite everything we go through that puts us on opposite sides. We sometimes agree on a bottom line and we progress," he added.
ALSO READ: Martin Githinji talks his award-winning role on Sue na Jonnie
Speaking during a previous interview with Parents Magazine, Daddie Marto revealed one of his valued parenthood moments was being in a position to provide for his family. According to Marto, the appreciation he gets from his family is what motivates him to go harder in life.  
"For me the greatest thing about being a parent is accomplishing my mission. As a man I wake up in the morning go toil and provide for my family. When I know I have people to come back to that will value whatever I bring back home, not just any one…. My family, that for me as a man is what drives me," he said.
Family 
After dating for two years, the revered actor and his wife jumped the broom back in 2018 in a colorful Ugandan traditional wedding held at the bride's homeland in Lubowa, Uganda. In 2017 they were blessed with their first child.
ALSO READ: Love has no boundaries: 10 hot cross border couples
Asked to describe her husband's greatest achievement in life, Christine answered, "You are an amazing dad and husband. You have created a home for us that is warm and safe, and loving. It is not easy to do that at this time and age."
The couple has carved their own niche in the digital world through their YouTube channel MaNaPaTau, which stands for Mama na Papa Tau. According to the Sue and Jonnie actor, their channel is meant to inspire married couples, parents, and individuals to navigate life.
"Our Channel is basically meant to speak to homes, to speak to parents, individuals and even people struggling with careers and decision making. We just wanted to normalize marriage and parenthood in our generation."
Wondering what has made their relationship so strong?
"When we started dating we set out a number of rules and regulations. We said, this contract of ours has to have this and this to help us grow. They include us fighting openly. By this I mean without holding back how we feel. I sometimes sulk and not want to speak but because we agreed we can't shut anyone down when they want to talk, we talk. Secondly we communicate. We also have realistic expectations of each other. We are real and haven't over hyped our marriage like those one in soap operas."